HOME
Syria: Beyond the laws of war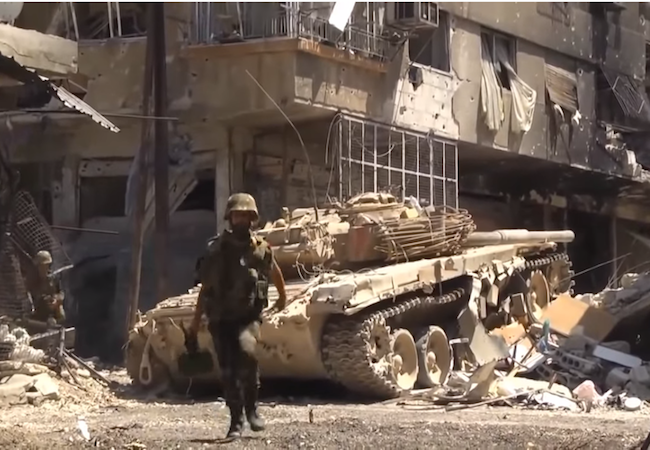 By Rene Wadlow
The protection of medical facilities and medical personnel is at the heart of the laws of war dating from the first Red Cross-Geneva Conventions of 1864.  On 3 May 2016, the United Nations Security Council unanimously adopted Resolution 2286 calling for greater protection of health care institutions and personnel in light of recent attacks against hospitals and clinics in Syria, Iraq, Yemen, South Sudan, Democratic Republic of Congo and Afghanistan.  These attacks are too frequent to be considered "accidents" and may indicate a dangerous erosion of the laws of war.
The most recent systematic bombings of medical facilities have been in and around Aleppo, Syria.  A country-wide ceasefire had been brokered by the United States and Russia in order to facilitate negotiations in Geneva.  The ceasefire helped to decrease levels of violence.  However, the Geneva negotiations carried out separately by UN facilitators with representatives of the Syrian government and members of opposition movements did not advance and have now been suspended. In addition, there was a 5 May 2016 air strike on a large camp of internally-displaced persons in Sarmada, near the frontier with Turkey.  The persons in the camp were unarmed and should have been protected by the Geneva Conventions.  After the first Geneva Conventions of 1864, the scope of the Conventions have been broadened, especially in light of the Second World War and the Vietnam War.
The laws of war, now most often called Humanitarian Law, are based on reciprocal restraint. "You do not harm our prisoners-of-war, and we will not harm your prisoners-of-war." The International Committee of the Red Cross (ICRC) has a treaty obligation to see to the respect of the Geneva Conventions.  The Red Cross staff is usually well aware of what is happening "on the ground." However, they are very reserved in making this information public as publicity could harm other Red Cross functions, such as running or helping to run hospitals or providing food and medicine. Thus, it is increasingly the role of non-governmental organizations such as Amnesty International and Human Rights Watch to investigate and report on violations of the laws of war.
Governments also have a role to play, and Resolution 2286 is an important resolution to uphold the rule of law. Thus we must support Resolution 2286 as a reaffirmation of the importance of world law.  We must also promote good faith negotiations to end armed conflicts such as those in Yemen, Syria-Iraq, and Libya. Such negotiations are difficult; good faith is in short supply.  However, as representatives of non-governmental organizations, we have certain avenues for action, and Resolution 2286 gives us a mandate.