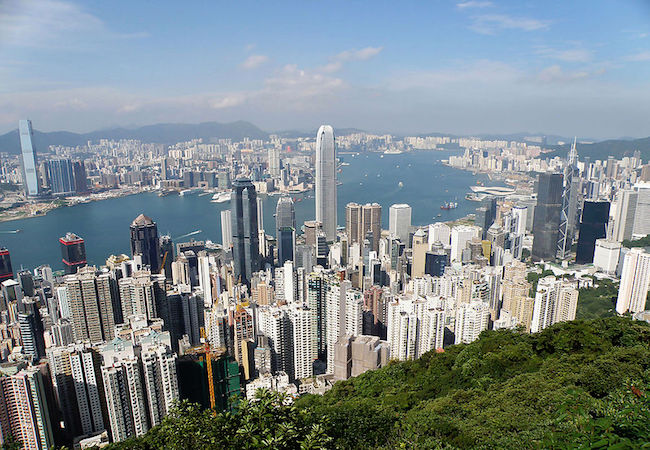 By Aine O'Mahony and Elodie Pichon
Following the recent abduction of five Hong Kong publishers, alleged to have edited books disclosing "inconvenient truths" about the Chinese government, thousands of people took to the streets of Hong Kong to protest and fight for their right to have Freedom of Expression, which had already been enshrined in the Fundamental Law of Hong Kong. The post 80 generation wants to defend civil liberties and young people are concerned by the fact that the Chinese grip on the media could be the potential starting point for the end of the "1 country, 2 system" policy, agreed on between China and Great Britain for the transfer of sovereignty over this territory. Is it reasonable to believe that this territory could become a simple reproduction of China, as feared by the younger generation?
On the first of July, 1997, China resumed control of Hong Kong after 156 years of British colonial rule. The two countries had already agreed on the terms for the transfer of power back in 1984.  Britain acquired Hong Kong Island in 1842, following the" Opium Wars" of the 19th century. It took possession of Kowloon Peninsula in 1886 and obtained a lease on The New Territories for a period of 99 years beginning in 1898.  Lawmakers, appointed by Beijing, took over power in 1997, but promised to honor China's pledge to maintain the Hong Kong way of life for at least another fifty years.
However, today idealism is being replaced very quickly by pragmatism in Hong Kong where official statistics show that this special administrative region is becoming more and more politically and economically dependent on China. The Closer Economic Partnership Agreement (CEPA) set up in 2003 aims at facilitating commercial exchanges between the partners, thus forcing Hong Kong to become more politically integrated into China. Beijing has managed to achieve its goal, because the volume of trade between Hong Kong and mainland China has multiplied by three over the last ten years. In addition, in order to influence the elite of Hong Kong, China has invested extensively there, particularly in finance and real estate. Kai Dai of the United Front of the University of San Yat, of Canton stated that "the CEPA could enable China to use its economy as an axe to reinforce political communication on the two sides and to reconquer the population of Hong Kong". Beijing relies on Hong Kong's economic dependence on China to tighten its control over the territory, indicating that the "one country, two systems" principle is more theoretical than real.
Back in 2012, in his luminary and farsighted policy paper 'What China Wants for Asia?' professor Anis H. Bajrektarevic accurately diagnoses: "To sustain itself as a single socio-political and formidably performing economic entity, the People's Republic requires more energy and less external dependency. Domestically, the demographic-migratory pressures are huge, regional demands are high, and expectations are brewing… In effect, the forthcoming Chinese military buildup will only strengthen the existing, and open up new, bilateral security deals of neighboring countries, primarily with the US – as nowadays in Asia, no one wants to be a passive downloader. Ultimately, it may create a politico-military isolation (and financial burden) for China that would consequently justify and (politically and financially) cheapen the bolder reinforced American military presence in the Asia-Pacific, especially in the South and the East China Sea. It perfectly adds up to the intensified demonization of China in parts of influential Western media."
When speaking with some of residents of Hong Kong during our recent visit there, we realized that many had adopted a fatalistic attitude towards their situation because of their economic dependence on China and their fear of the political powers of Beijing. People feel that China has reneged on its promises and freedom of expression is becoming severely jeopardized. The principle of the two systems framework, regards Beijing as being responsible for the city's defense and foreign affairs while Hong Kong should be able to enjoy limited self-governance and avail of civil liberties, including an independent judiciary and freedom of the press. China promised that Hong Kong could elect its leaders through universal suffrage, but this is far from reality today when China is slowly but systematically tightening its grip over the territory. The people's hope for a change in the political system, which would allow democratic elections and civil liberties, is quickly vanishing. Ben, a very pragmatic businessman whom we met, acknowledges that Hong Kong does not have the economic capacity to count without China, but China is not willing to make any concessions. Hong Kong is in a deadlock situation and seems to be doomed under the influence of China. According to Ling, a young activist of the Umbrella Movement, "the Hong Kong population will only protest in the case of a mass violation of the freedom of expression".
Shortly after the transfer of power from Great Britain to Beijing, the post 80 generation could foresee that freedom of expression was going to be threatened. According to Mai Hai, a woman in her fifties, who is politically involved and very concerned about the lack of civil liberties in Hong Kong, "1997 was the beginning of a head-on confrontation with the CCP" and resistance to the government of Beijing has strengthened in Hong Kong. In 2005 Citizen Radio was launched in order to "bravely speak out" and defend the freedom of expression. However, the authorities of Hong Kong, under the command of Beijing, began acts of repression against the radio station. Szeto Wah, and seven of his colleagues were prosecuted for having dared to speak about the Tianamen Square protests on his radio program.
Over recent years the situation regarding universal rights has not improved in Hong Kong. In 2014, the journalist, King Lau, was prosecuted for having sharply criticized Beijing. This created public indignation and outraged the newly politicized generation who began protests in Hong Kong to defend the freedom of the press and demand "true universal suffrage". The Umbrella Revolution, a pro-democratic movement, began in 2014 when students boycotted class in order to protest outside city government headquarters in favor of the restoration of civil liberties. More and more Hong Kongers of all ages and backgrounds joined in these peaceful street protests, eventually paralyzing the city's central business district for weeks and even months. The humble umbrella became the key symbol of this protest as it was used not only to protect demonstrators from the tear gas and pepper spray used by the police and as a shelter for the night but it was also a symbol of resistance. Unfortunately, it would be naïve to think that these protests, filmed by the cameras of the entire world would have been enough to frighten and threaten the Chinese government. Beijing went from strength to strength in its relentless repression and opposition to the movement. The Umbrella Revolution was no exception to Chinese severe censorship procedure. Lok Yee, one of the remaining protestors who still slept outside under his yellow umbrella several months later, explained how information was controlled and falsified by the authorities in Beijing. At first any "inconvenient truths" related to the Umbrella Movement were either deleted or modified. When this became impossible due to the huge influx of information the government decided to lie by saying that Hong Kongers were only showing support for the CPC. When these first strategies failed they always found new methods of covering over, such as falsifying videos by cutting scenes where policemen launched tear gas. They even paid both Chinese and Hong Kong people to help boost the government's popularity. These "soft warriors" also known as "50 cents" were paid fifty cents for each positive comment twitted about the government or for each comment against the demonstrators. They even received more money if they demonstrated against the Umbrella Movement.
The ten-year judicial sentencing of Yiu Manting, a Hong Kong editor and the recent disappearance of five staff  members of the Mighty Current Publishing House (known for frequently criticizing China) shows that Xi Jinping is more determined than ever. Opposing the government and defying censorship is becoming more and more dangerous in Hong Kong. Freedom of expression is severely jeopardized and journalists have no option but to rely on self-censorship in order to avoid retaliation.
All types of communication including the state media and social media are strictly controlled on the mainland of China. A lot of information is censored or falsified or in many cases completely deleted if certain words such as 'democracy' are detected. The aim of the government is to try to hide information concerning its political policies and its methods of dealing with political dissidents or those who do not yield to the power of censorship. Baidu, the most popular search engine in China, has very limited resources on any subjects which are considered as sensitive by the Chinese authorities. Lence, a twenty-year-old student studying in Hong Kong, explained this to us and showed us that with a Chinese search engine it is impossible to find any facts about Liu Xiabo, the imprisoned human rights activist and Nobel Prize winner, who was absent from Oslo and unable to receive his award because he was kidnapped by the Chinese government.
According to Lence, the Chinese government is more and more concerned about the fact that Hong Kong students could bring their  "dangerous ideas" to the mainland of China. On his recent visit there, his newspapers and all his academic papers were confiscated at the Chinese border. However this severe treatment is nothing compared to that of some of the leaders of the movement. During demonstrations secret agents are sometimes sent by the Chinese government to follow and list the names of those who are prone to upset the stability of the communist regime. These activists are blacklisted and not allowed reach mainland China.
There seems to be no hope today for a better future in Hong Kong, a sensation felt even among the younger generation.  What will the implications be for the people who are being progressively denied their civil liberties? Will Hong Kong find democracy? Probably not, because Beijing fears that the election of any pro-democracy candidate could destabilize communist ideology and bring down the regime. A group of students from the University of Hong Kong, that we had the opportunity of speaking to, confessed that they did not think Beijing would change its attitude towards the people of Hong Kong nor loosen its control over the press.
Is this fatalism definitive or could the situation in Taiwan bring hope to the people of Hong Kong? Thanks to Taiwanese activists the Umbrella Movement influenced the election of the pro-independent president, Tsai Ing-Wen. Could this in turn bring new energy to Hong Kong in its battle to continue its fight for fundamental rights?
Aine O'Mahony has a bachelor in Law and Political Science at the Catholic Institute of Paris and is currently a master's student of Leiden University in the International Studies programme. She can be reached at [email protected] Elodie Pichon has a bachelor in Law and Political Science at the Catholic Institute of Paris and is currently doing a MA in Geopolitics, territory and Security at King's College London. She can be reached at [email protected]