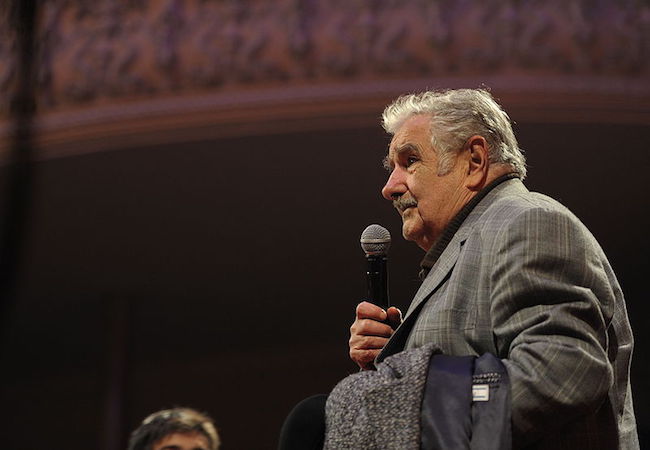 By Peter Tase
On August 12th, 2016, a group of international scholars, university professors and leaders of many International Organizations abroad, led by the Honorable David Pettigrew, Ph.D., Professor of Philosophy at the Southern Connecticut State University and Mr. Adil Kulenović, President of KRUG 99 in Sarajevo, have sent an open letter to the Former President of the Oriental Republic of Uruguay Mr. Jose Mujica (2010-2015).
This letter signed by professor Pettigrew, and 18 other renowned intellectuals, reads: "Those of us who have been inspired by your Presidency in Uruguay, including your generous welcome of refugees from Syria, and who have supported struggles for democracy and social justice in Latin America, were quite concerned to learn that you had accepted the "Order of Republika Srpska" in Višegrad. With all due respect Mr. Mujica, we would like to share our grave concern in this matter with you.  Other reported recipients of this award have included former Bosnian Serb President Radovan Karadžić and Momčilo Krajišnik, both who were found guilty of war crimes by the International Criminal Tribunal for the Former Yugoslavia. Mr. Karadžić was found guilty of Genocide, Crimes Against Humanity, and other war crimes, and Mr. Krajišnik was found guilty of Crimes Against Humanity. We are not sure why you would allow yourself to be associated with such convicted war criminals…"
It is unfortunate and sad to observe that a former head of state from a far away continent such as South America would be willing to tarnish his international image by receiving an award that is given by a Republic which is not recognized internationally and is succumbed by corruption, nepotism, poverty and a rampant kleptocracy.
Former president Mujica will have to explain his position to the world community and to the signatories of this letter, why he visited Republika Srpska, about a month ago, a region that is not recognized as an independent country and why did he accept such an award from the government of Republika Srpska.  Currently, the Executive Government of Republika Srpska is led by Mrs. Željka Cvijanović, a former English language teacher, an attorney and a former translator of the EU Monitoring Delegation in the Federation of Bosnia and Herzegovina.
It is unfortunate that a former President of a South American Country decided to become an unmerited puppet that has not been shaken by the fog of war in the Balkans; nor does he remember the impactful collective memories that are still vivid from the atrocities and tragic events that took place in the 1990s in territory of Bosnia and Herzegovina.   The letter today sent to President Mujica reminds us once again the fog of war and ethnic cleansing operations at the heart of Europe, in Bosnia and Herzegovina, a country that according to Sabahudin Hadžialić (a well known writer from Bosnia and Herzegovina), "has the shape of an heart" and is the home of peace loving people who have had enough of war, armed conflicts and corruption.  President Mujica should refrain from holding and must refuse to accept a decoration that places him in the very same list with Europe's notorious war criminals.  Please click here to read the full letter in English Language.