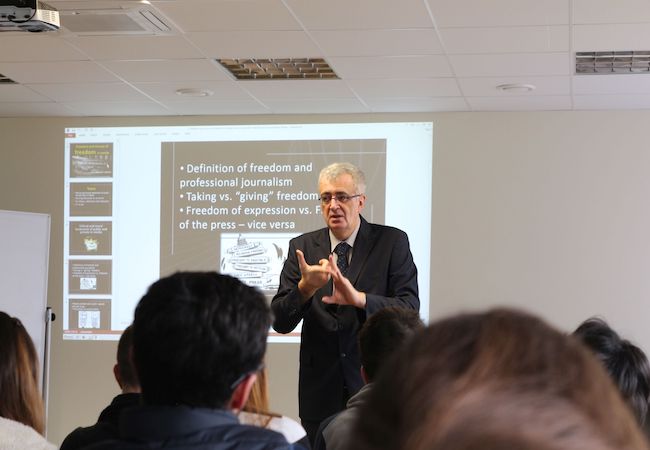 By Peter Tase
On March 1st, 2017, the mobility program of Erasmus+ facilitated a series of lectures in Kazimieras Simonavičius University (Vilnius, Lithuania), led by Dr. Sc. Sabahudin Hadžialić, a Media and Communications Professor at the International University Travnik.
Dr. Hadžialić, led a series of lectures addressed to students and professors of Kazimieras Simonavičius University, with a focus on Intercultural Communication.
During these sessions the following topics were discussed: 1) Deeply polarized world of the XXI century; 2) Tolerance and dialogue in the media; 3) Freedom and misuse of freedom in the media.
Many professors and students of Kazimieras Simonavičius University and from other universities have attended his lectures.  In this context IUT Professor Hadžialić presented these difficult topics with a lucid manner using a of interactive orientation and vibrant dialogue with all attendants.
At the end of these lectures, students and professors expressed their opinions, commending Dr. Hadžialić, for deepening their knowledge in the fields of Communications and Intercultural Dialogue.
According to Ana Lisa, a student from Italy: "this was one of the best lectures I have attended so far. I am studying law, although I aspire to direct myself towards diplomacy, after graduation, and therefore these lectures are a great help" Lorenzo, another student from Italy noted: "today's lectures have opened for me a new positive possibility for understanding of others and different views within intercultural communication".  Lorenzo continued his discussion after the formal lectures with Dr. Hadžialić, and delved into the topics that were touched upon in the presentation at KSU – Vilnius.
These lectures were also attended by two students of the IUT Faculty of Economics, Ramiz Kopčić and Irfan Mandžuka, who were attending summer semester at KSU, as part of the Erasmus + mobility, they expressed their positive experience and impressions during their studies at the Kazimieras Simonavičius University, Vilnius, they reiterated that Lithuanian people are gracious hosts.
After a series of lectures, Prof. Hadžialić had an interview with Monica Mačiulienė, MA, Head of Communications projects at KSU; their conversation was later on published in the official website of the University and in a number of national newspapers.
International University Travnik, under the strategic vision set forth by Distinguished Academician, Rector, Prof. Dr. Ibrahim Jusufranić, and upon completion of the international accreditation processes, and education excellence, is becoming a prestigious institution not only in the region but also throughout Europe. Lectures of Prof. Hadžialić in Lithuania; are a testimony to admirable work and leadership of Rector Jusufranić and other leaders of IUT.