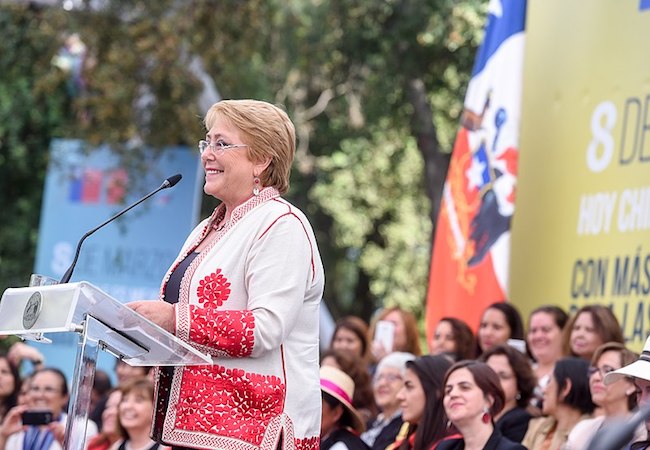 A repudiated politician leading a toothless bureaucracy hardly seems like a recipe for success. However, on September 1 former Chilean president Michelle Bachelet officially became the UN's High Commissioner for Human Rights. Bachelet served as Chile's president twice, and concluded her most recent term in March. In her new role, she will head an agency that has struggled to respond to the largest refugee crisis since World War Two. Likewise, Bachelet's new organization faces challenges to its funding and its legitimacy from populists leery of international globalism. Due to the constraints, Human Rights Watch has described her position as "one of the world's most difficult jobs." Nevertheless, Bachelet's personal biography and past experiences at the UN provide reasons for optimism. Although her new position appears daunting, Bachelet is capable of constraining human-rights violations and reviving her agency's credibility.
Bachelet takes over an inherently weak organization. Her loftily titled agency, the Office of the High Commissioner of Human Rights (OHCHR), has a formal mandate to "promote and protect human rights for all." Practically speaking, this does not mean much. OHCHR promotes legislative and judicial reforms that attempt to expand individual freedoms. However, the agency has little official authority and few actual levers of power. Its success relies entirely on support, cooperation, and funding from member states. Bachelet's predecessor, Zeid Ra'ad Al Hussein of Jordan, spent his Cassandra-like tenure issuing unheeded condemnations of global rights violations. Despite his laudable attempts to denounce despots and drive dollars to the displaced, Hussein made little progress in promoting tangible reforms. The agency's recent failures include ineffectual responses to crises in Yemen, Myanmar, and Venezuela. Hussein also failed to stem the advance of populist illiberalism in the developed world, sparring fruitlessly with aspiring authoritarians like Viktor Orban. Most notably, OHCHR has struggled to support the overwhelming number of refugees fleeing Syria's carnage. Meanwhile, the agency faces a significant financial emergency. Last month, the Trump administration confirmed that it would dramatically curtail its funding of OHCHR. In 2018 the U.S. has provided just $1 million to OHCHR- a steep 95% dropoff from its 2017 contribution. Such American avariciousness threatens to put a significant dent in OHCHR's budget. Overall, Bachelet must revive an agency that has failed to achieve its primary goals, lacks formal authority, and just lost funding from its principle donor. A formidable task indeed.
Despite these headwinds, Bachelet's background provides her with the skills needed to succeed in her new role. First, Bachelet has direct experience as a victim of human rights violations. In the 1970s, Augusto Pinochet's regime detained and tortured Bachelet and her parents. Bachelet's father died in prison due to his political beliefs, while Bachelet and her mother suffered a stint in exile. This past gives Bachelet instant credibility and moral authority when condemning human rights abuses. Unlike Hussein, who alienated political leaders of all stripes, Bachelet assumes office with widespread support and received unanimous confirmation. Secondly, Bachelet has previous experience of success at the UN. After her first presidential term ended in 2010, Bachelet became the inaugural director of the UN Entity for Gender Equality and the Empowerment of women ("UN Women" for short). While launching this new organization, Bachelet promoted gender equality by increasing the number of women UN peacekeepers, aiding third-world women farmers, and supporting female political candidates. Her prior UN work demonstrates that Bachelet can actually use her new position make tangible, meaningful change.
A successful tenure for Bachelet as High Commissioner would have important ramifications on Chilean and global politics. On the international stage, she will have a platform to work on crucial humanitarian issues. Just like her predecessor, she will also be well-placed to mobilize international opposition to populists and rebuild trust in international institutions. Further, any revitalization of OHCHR would significantly alleviate the plight of refugees and dispossessed people worldwide. Likewise, Bachelet can potentially use her new platform to regain influence on the Chilean political scene. In Chile's 2017 election, voters chose conservative billionaire Sebastian Pinera over Bachelet's preferred successor in a broad repudiation of her liberal priorities. Bachelet, 66, is ineligble to run for president and unlikely to attempt another campaign for public office. Still, with her platform at OHCHR, Bachelet can potentially restore her public approval rating and rebuild support for her agenda- perhaps the constitutional reforms she unveiled shortly before leaving office. Bachelet's seemingly thankless new job actually gives her a chance to make profound humanitarian impact and to advance her political priorities in Chile.