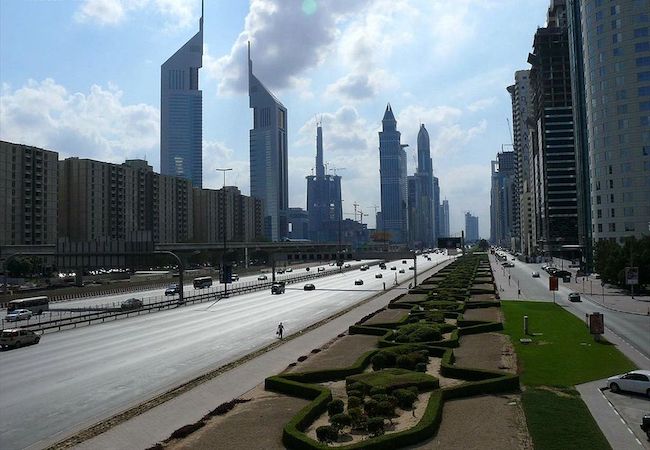 By Kayla Koontz
Are you buying what the UAE is selling? Dubai is glowing. Sunsets and glittering towers shine in panoramic shots of the metropolis. Water fountains shoot into the sky designing intricate patterns of white spray, children slosh down water slides in giant inflatable tubes, and rows upon rows of sprinkler heads drench massive green golf courses. The tourism section in Dubai is booming. It is estimated that overnight stays in Dubai will increase by 5.5% next year. Yet their strategy depends on a rapidly declining resource: water.
Dubai sells its city with luxury, business opportunities, and modernism. Water parks, massive swimming pools, mid-desert resorts, lush gardens and golf courses all feature in Dubai's advertisements. Like most countries in the Arab world, water is an increasingly threatened commodity. In Dubai the scarcity of groundwater and high salinity levels combine dangerously with increasing water demand. A report by the Environment Agency in Abu Dhabi estimated that UAE aquifer systems will run dry by 2050 if drastic measures are not pursued. However, the United Arab Emirates is limited in their investments by declines in oil revenue. As a result, water concerns have been relatively brushed to the side as a problem for the future.
Dubai continues to push ahead with its tourism campaign in hopes to reach its Vision 2020 goal. As of 2018 tourism has risen considerably. Vision 2021, however, includes a objective for "sustainable environment and infrastructure", an unachievable goal in light of the challenges facing the desert region and the mismanagement of the regime.
Primarily, the UAE has focused on desalinization projects. But these projects have inherent drawbacks and may not be able to offset the massive impending disparity. Dubai spends about 12 billion Dirham on desalination in the UAE to provide drinking water to its inflating population of 9.4 million . Necessary levels pf desalination is an investment Dubai may not be able to afford in several years. Likewise, desalination requires an extreme amount of energy and produces highly concentrated residual brine that is then dumped back into the sea. The shape of the Persian Gulf itself further inhibits the brine from flushing out back into the greater ocean. This process threatens the ecological security of the surrounding sea and has possible negative implications for Dubai's advertised water sports and exciting beach life.
"Masdar is the emirate's pioneering vision of a city of the future. With the goal of becoming the world's most sustainable eco-city, Masdar is leading the way by developing a 'greenprint' for how cities can accommodate rapid urbanisation and dramatically reduce energy, water and waste." – visitabudhabi.ae
Masdar City is an indicator of Dubai's potential – or lack thereof – to confront water disparity. Masdar City was created as a publicity stunt and reflected the UAE's need to reassert itself as a futuristic model for the Middle East and elsewhere. Yet 12 years later Masdar City is a ghost town. The original plan for Masdar City to become the first zero-carbon city was deserted along with its driverless transportation system.
The UAE lacks the ability, or perhaps willingness, to invest in sustainable water consumption and production. This water crisis will affect not only put more pressure on the regime from the domestic constituency, but also change the touristic value of Dubai. Water shortage is certainly not the only challenge Dubai is facing in recent years. Depleting energy resources, mass sewage influx, dwindling local population, and human rights violations threaten the stability of the idealized city. It's only a matter of time before Dubai's ads start to reflect the reality of Dubai: it's a desert in denial.
Kayla Koontz is a profligate commentator on world affairs and graduate student of global studies at the University of California, Berkeley.