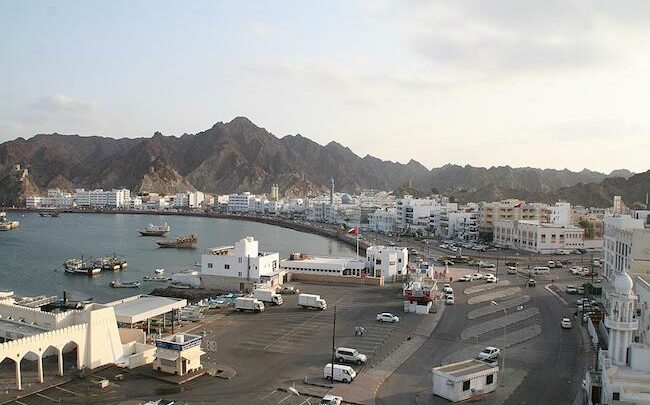 Oman, famous for its picturesque and idyllic port capital Muscat, which is snuggled between the mountains and desert and the Gulf of Oman, seems like an ideal visiting place and a quiet, pleasant country – one of the members of the GCC least known for drama and bad publicity at home or abroad.  Visitors can enjoy exquisite architecture, bustling souks filled with traditional crafts, modern shopping malls, historic fortress, beaches, and delicious sea food. Furthermore, in recent months, Oman appears to be at the forefront of progressive foreign policy thanks to the top level contacts with Israeli officials. The government describes itself as the government of "tolerance and peace".
The residents of the Musandam Governorate, a mountainous Omani peninsula protruding into the strategic chokehold Strait of Hormuz, and separated from the rest of the country by the United Arab Emirates, may beg to differ from the perception of the Sultanate as a modern-day fairy tale.
The Strategic Importance of Musandam
Musandam's location gives Oman, jointly with Iran, partial control of the Strait, through which approximately one fifth of the world's supply passes. For some Gulf countries, the Strait of Hormuz is the only or the only realistic option for transferring oil to their clients. This area is only accessible by land from UAE. It also gives rise to the UAE-Oman rivalry, which is exploited by third parties, such as Iran. Oman maintains close relations with Iran, whereas UAE has joined Riyadh's opposition to Iran's hegemonic regional ambitions. Recently, Oman banned non-Omani citizens from owning land in border areas, including Musandam. Musandam is the most proximate area of Oman to Iran.
In April 2019, Oman sentenced an alleged UAE spying cell consisting of five Omanians and one Emirati citizen. Oman has been cracking down on such alleged spy networks since 2011, where the first such group was arrested. In 2017, Omanians claimed that  UAE was listening in on the phone of the Oman's foreign minister, Yusuf bin Alawi bin Abdullah. Musandam is known for the smuggling of weapons and various contraband, which are then transferred to the Iran-backed separatist Houthis in the nearby Yemen. in light of this issue, the arrests of the spy cells, and other actions by the Sultanate region can be seen not only as mere reaction to potential infringements by UAE on its territorial activity, but a way to minimize the pressure against its own violations related to turn a blind eye on Iranian activities, particularly in light of the recent attacks on oil tankers.
Furthermore, it is not clear whether the "spy cells" were actually engaged in any intelligence gathering. In 2018, Oman arrested 6 Musandam human rights activists from the Al-Shuhuh tribe and sentenced them to life in prison after allegations of torture, deprivation from family visits and ability to observe religious holidays, and lack of access to counsel. All were held for months on vague national security charges before finally being charged with acts that would supposedly endanger Oman's national sovereignty.
Who are the Shihuh or Al-Shahu people?
The population of Musandam is approximately 31,425 people.  In the northern section of this governorate, the locals mostly speak Kumzari, a Southwest Iranian language related to Larestani and Luri. The Arabic that is spoken in the area appears to be a distinctive dialogue which may have resulted from the isolation of the population from the rest of the Arab world. The Shihuh (or Shuhu) people, who inhabit a particularly closed off section of the governorate in the north,  and are comprised of several tribes, with uncertain origins. Some researchers believe they may be indigenous inhabitants of the Arabian peninsula. They are known as the "hill people" because they live in a rugged, mountainous area, which was always very difficult to invade.
The Shihu have distinctive culture and traditions. Unlike Bedouins, from whom descend many of the other tribes in Oman and UAE, the Shihu are not nomads, but have for most of their traceable history been engaged in settled farming and fishing. Their distinctive fishing villages make up a major part of the landscape of Northern Musandam. The Shihu spend the year migrating between mountains and coasts, where they farm during the winter and fish during the summer, and where, as a result, they have developed a distinctive feature of having two tribal territories and two homes, unlike others around them.  They also wear distinctive clothes and other attributes.  Historically, they have been difficult to govern, particularly by outside forces, as many of the northern villages have been secessionist, had conflicts with Emirati tribes, but would put aside internal conflicts to unite forces against the central authority in the nearby Sharjah.
Although the population was considered Omani and frequently was more aligned with the Suzerainty of Muscat over the nearby Emirati strongholds, they did business and owned property in the Emirati territories and frequently had other common interests.  All of these clashes were a source of much frustration for the British, who eventually annexed the territories with the Shihu to Oman in 1970. Since then, Shihu have experienced persecution, discriminatory practices, and destruction of their heritage and culture by the Sultanate which has taken a harsh stand against any human rights or pro-autonomy activism by the tribe.
The Arrest of the Shihu Activists
Six people affiliated with the Omani Center for Human Rights were arrested in 2018. Five were arrested in Oman (one was crossing the border after returning from the umrah pilgrimage to Saudi Arabia), and one was arrested in Dubai where he had resided and was active for many years, per request from the Sultanate, and turned over to the Omani authorities. Five of these activists were initially held incommunicado following a series of arbitrary detentions, where official charges were not announced, access to legal counsel was not provided, and no warrants had been issued. Mohammed Sulaiman Mohammed Mazyud al-Shahi, Mohammed Abdullah Ahmed bin Rahma al-Shahi, Rashed Saeed al-Salhadi al-Shahi, Ali Mohammed Ali al Mazyud al-Shah, Ali Ahmed Rajab al-Obaidi al-Shahi were only allowed a single phone call to notify of their arrests, during which they could not speak freely, and otherwise could not contact their families or lawyers. Abdullah Al Shahi was consequently deemed to be a prisoner of conscience by the European Centre for Democracy and Human Rights.
Following months of beatings and various forms of torture and maltreatment, the detainees were convicted after what was described as a "grossly unfair trial." The detainees were only able to hire a lawyer after the charges progressed to the prosecution stage; there were only three court sessions held between their arrests in April 2018 and their conviction on September 24.  The defense could not speak to their clients nor receiver or review any documents related to the case prior to the start of the trial.  That meant that the defense did not have time for adequate preparation and was significantly disadvantaged. According to a prisoner's family member outside Oman, who is in contact with family members of detainees who have met directly with the attorney, the charges include circulating and publishing information insulting to the authorities and communicating with international groups in order to undermine the state's independence. According to the families of the prisoners, and to the website of OCHR, however, although the prisoners were working towards autonomy for their region, there was no secessionist movement nor any activities aimed at undermining the state or its sovereignty.
By November 2018, six prisoners were sentenced to life in prison on vague national security charges, after engaging in peaceful activism. Most of the charges and the evidence were not presented to human rights organizations, such as Amnesty International. Four of the prisoners held Omani citizenship while the other two were Emirati. The case also named a number of other Emirati suspects or alleged participants, but they were not apprehended.
Human Rights reports confirm allegations of political reasons for the arrests and convictions
According to Amnesty International, "Mohammed al-Shahi and the other defendants' convictions were based on Article 125 of the Penal Code, which imposes life in prison or a death sentence on "anyone intentionally committing an act which leads to the infringement of the country's independence or unity or the sanctity of its territory," and Article 19 of the Law on Combating Information Technology Crimes, which criminalizes Internet material "infringing on religious values or public order." Mohammed al-Shahi was motivated to speak and write about Musandam's situation by human rights violations including home demolitions, and poor socioeconomic conditions in the province. There have been waves of arbitrary detentions of Musandam residents championing the region's local history and culture since 2015, and reliable reports of arbitrary detention of Shuhuh tribe members in Musandam dating back at least to 1991.
In addition, the government has repeatedly undertaken demolitions of homes on the pretext that they are in violation of building codes. Authorities have often expropriated lands for state use after demolishing the homes built on them. Since September 2014, the "immediate removal team" of the Ministry of Regional Municipalities & Water Resources has announced the imminent or completed demolition of dwellings and other local structures in Musandam's Daba, Khasab, and Bukha municipalities on at least 15 occasions. Affronted by the central government's treatment of Musandam, al-Shahi became active in 2016 in meetings and online writing about the province and local grievances against the central government, while he was living and working in Dubai, UAE.
The judgment states that in 2013 or 2014 al-Shahi met with a French lawyer to learn more about Musandam's legal options under international law, and that during a trip to London in 2016 he attempted to contact Amnesty International. On 5 May 2018, Emirati security officials detained him at his home in Dubai and turned him over to the Omani government. He has remained in detention or prison since that time. The other five defendants were detained in Oman (in one case, at the border) during spring and summer 2018.The court proceedings against al-Shahi were summary and were marred by multiple violations of the right to fair trial."
At the end, all six members of the tribe received life sentences based on Article 125 of the Penal Code, which mandates life imprisonment or execution of "anyone intentionally committing an act which leads to the infringement of the country's independence or unity or the sanctity of its territory," and Article 19 of the Law on Combating Information Technology Crimes, which criminalizes publication (or even possession) of Internet material "infringing on religious values or public order."
Following the convictions, the defendants were transferred to the Sohail prison in the mountains west of Muscat, known for its poor conditions. Several of the prisoners were held in solitary confinement for weeks, then transferred to a block containing 220 prisoners all roomed together. All six prisoners had been prevented from seeing their families for weeks in January. And in June, the authorities prevented the prisoners from speaking to their families during Eid al-Fitr. As all appeals appear to have been exhausted, their situation at the moment appears rather hopeless.
But why did these six individuals risk everything, including, in one case, the security of living in Dubai for the sake of engagement in advocacy?
Reactionary crackdown on freedoms after the Arab Spring upheaval
The Sultanate has taken a hardline position on the issue of any level of autonomy of the Shihuh tribe. According to the Omani Center for Human Rights, it has cracked down on free speech, and freedom of expression and association throughout the country in general since 2011, the height of Arab Spring uprisings throughout the Arab world.
Arrests against dissidents, including minorities such as the Shihuh, became common in the following few years.
In one Freedom House report, six were sentenced to prison for criticizing the government online. In another instance, a group of people was sentenced to a year in prison for an "illegal gathering." Yet in another instance four people were sentence to prison after one of them posted a poem online, allegedly criticizing Sultan Qaboos.
An entire group of human rights defenders, including poets, journalists, and bloggers, was swept up in a wave of arrests. Oman has continuously scored low on freedom of the press and other civil liberties. According to Amnesty International, Oman has created an unfree environment inside the country, with the authorities going even as far as harassing the family members of human rights defenders. And despite its reputation as an oasis of peace in a volatile region, Oman's attacks on the press have rivaled and perhaps surpassed most other countries in the air. It has one official state newspaper; most of the private newspapers were shut down, and online publications and magazines which were either pressured to close by the security services or had their websites blocked.
According to OCHR, "Article 20 of Royal Decree 38/2014 gave the Interior Ministry absolute power to withdraw the citizenship of anyone found guilty of working for a party or state acting against the interests of Oman.  However the Article is loosely worded and, according to the analysis of the Omani Centre for Human Rights, is used against any piece of journalism containing criticism of government policies or uncovering corruption."
Suppression of speech, assembly, and expression throughout the country
The main suspect in such investigations appears to have been UAE. In fact, whatever issue or disagreement any activist may have with the government appears to be tied to national security violations or espionage accusations of some sort, which allow for indefinitely detentions, secretive trials, and certainly inability to publish or express opinions critical of any aspect of governance inside the Sultanate. Multiple other articles along the same line attack various categories of investigators or critics of corruption. Why so many provisions concerning corruption? Despite great wealth in natural resources, the country is mired in poverty with the government officials and the royal family benefiting from the oil, while much of the rest of the country  is suffering from unemployment, underpayment, and the country's excessive reliance on oil, which means lack of economic diversity.
Furthermore, in violation of article 20 of the Universal Declaration of Human Rights, the Sultanate has cracked down on peaceful assemblies of individuals, perhaps out of concern that any demonstration or rally could lead to mass protests and riots such as took place in Egypt and elsewhere in the region. In fact, "Article 121 of the revised Omani Penal Code explicitly states that a public gathering, whether peaceful or otherwise, constitutes a crime for which everyone taking part shall be punished." What that means in practice is that even a few individuals cannot congregate to discuss anything for an extended period of time for fear of a year-long imprisonment.  In a country of only 4,400,000 people, anyone could become a conspirator just by virtue of standing and chatting with a group of friends.
Meanwhile the Omani nationals who had been critical of these government policies and who have fled to UK, UAE, or other countries, have been stripped of their citizenship under the above-mentioned provisions, and rendered essentially stateless.
The prison sentences for various violations are rigidly enforced. A former diplomat turned activist died in prison after being sentenced for atheism and insulting the Sultan. A host of other activists, journalists, and bloggers had been sentenced to prison terms and fines for a range of dubious offenses ranges from blasphemy to online postings.
Members of the Shihuh tribe convicted of various violations had reached out to assorted human rights groups and posted on a website taken down by the government about the extensive effort to suppress their culture since the Sultanate was unified in 1970, and Musandam was adjoined to it.
Unique oppression against the Shihuh
In addition to the types of abuses against civil liberties common throughout the country, Oman has been systematically working to repress indigenous Shihuh culture and identity. The US State Department has consistently documented allegations of discrimination, mistreatment, and harassment by the authorities of the Shihuh members who complained about their conditions.
These issues included:
1 – Demolition of castles, forts and historical relics. – these were done with the intention of creating the appearance of a monolithic pan-Omanian culture. One ancient Musandam fortress was demolished in 1985 to be replaced with a modern looking version.
2 – Confiscation of the land and properties of the indigenous inhabitants. – some of this is related to the embarrassment of some members of the tribe accepting UAE citizenship. Another reason for that is akin to Iran's policy of population displacement and lend confiscation in the strategically important Khuzestan province, populated largely by Ahwazi Arabs, and known for its concentration of most of Iran's oil. Similarly, Musandam is in a strategically important location near the Strait of Hormuz; a tribe that is potentially rebellious or not cohesive or prone to sympathy towards the UAE potentially stands in the way of the Sultanate's control of its sphere, and of course, smuggling points for Iran.
3 – Following a policy of harassment and oppression to force the citizens to leave their places. – that related to the above stated policy of population exchange and the depopulation in the area in order to maintain perceived control.
4 – Eradication of the national identity by criminalizing adherence to customs, traditions and costume and the imposition of foreign imported costumes – this imposed conformity likewise is similar to the suppression of cultural identities of the non-Persian nations in Iran. The purpose for it is to ensure compliance of minority groups with the government and also to create a sense of hostility of other tribes against a unique culture, which can then be blamed for any potential grievances. Essentially, Oman seeks to impose ethnocentric nationalism at the expense of pre-Sultanate cultures.
5 – Setting up military and security bases and centers in a way that curbs inhabitants, and confiscation of vast areas of the land. – these goals are related to the military control over the area due to the importance of the Strait of Hormuz and strategic arms delivery and smuggling points by Iran. Since many of the tribe members have moved to UAE, which has joined Saudi Arabia in opposing Iran's backing of the Houthis in Yemen, who most benefit from these deliveries, there is a growing concern that their remaining relatives would pass the intelligence concerning these deliveries to the Emiratis or otherwise cause problems.
6 – Enacting a dictatorial and absolute law on the basis of expropriation properties for the public interest for the of confiscating lands and property of the population for security exploitation or in service of the authorities only. -the families who have lost their lands as a result are not compensated nor do they have a right to appeal these expropriations, as the government cites security reasons or vague undefined "rights" to confiscation for own use.
7 – Neglecting health and education infrastructures. The children of the region receive most of their treatment in the UAE. The residents are left without any school, college or university and they have to suffer the trouble of travelling 400 kilometers to Muscat for study, despite the authorities' ability to build military centers and bases. – The Sultanate does not consider the Shihuh an important or strong tribe or component of its population. These are largely defenseless farmers and fishers who are no match for government power. Furthermore, they are Sunni in contrast to the Shi'a government, and although allowed to practice their own religion, thanks to Oman's growing closeness with Iran, religious discrimination has become an issue. Moreover, the government does not wish the tribe to prosper or to become too educated or powerful due to its history of being poorly governed and independent and its close family ties with UAE.
8 – Closing many areas preventing inhabitants to enter under the pretext, "it is a closed military zone. – The Sultanate has an obsession with countering largely imaginary Emirati spies, which appear to be lurking everywhere in the governorate despite tight control. Part of the reason, of course, is the physical proximity of the two countries, and of course, the family connections between the Omanian Shihuh and their Emirati counterparts. Another issue is the prevalence of Iranian smugglers, which in theory would invite spies of all backgrounds to snoop around the area. However, it is also a self-serving way to further oppress the population and give land to corrupt government officials and cronies.
9 – Falsifying the history of the region and distorting facts. – the reasons for this are self-serving; the Sultanate needs reason to deny any history of autonomy for the Shihuh, all aspects of their unique culture, and relations with the Emirates. Oman does not wish to end up in a position of possible territorial claims by UAE if it continues close cooperation with Iran in that area, thus endangering UAE's security, nor for a portion of its own population to be used against its sovereignty and policies.
10 – Confiscation of all important monuments and significant historical holdings and placing them in Muscat museums. The government wishes to be the central authority in charge of history, and this is one way for glorifying and aggrandizing its power. Furthermore, Muscat is the center of that power, and since its unification, the primary focus of all restoration and economic projects has been on Muscat.
11- Depriving residents of clean drinking water; residents purchase all their need of drinkable water from water plants in the UAE at their own expense. In essence, the governorate is largely of military and security interest to the government; the Shihuh is a very small proportion of the overall population for the government, and thus, there is little emphasis on the humanitarian concerns. On the contrary, the Sultanate finds it better to oppress tribes that have had a history of rebellions in order to keep control over them.
12 – Intentional neglect of water pollution on land and at sea. – This strategy reflects similar efforts by Iran to oppress its peripheral largely non-Persian populations through deliberate damming up and diversion of rivers and other environmentally unsound policies which have contributed to drought, various humanitarian disasters, deadly and ruinous flooding of flooding, deterioration of the fishing industry, and climate change. Part of it is ethnonationalist disdain for those who are different, and part of it is deliberate effort to exercise dominion and control over the area, by making it uninhabitable for those who populate it. This is part of the strategy to depopulate Musandam and make it an easier smuggling point.
13 – Setting up stone crushers in marine areas on which the residents depend to fish for livelihood and pollute the area with blowing dust, particles and continuous bombing in favor of one of government ministers, and not the government. This reflects the disastrous handling of the flooding in Khuzestan by Tehran which occurred earlier in 2019, when flood water was deliberately diverted into Ahwazi Arab farmlands to avoid flooding Chinese-controlled oil rigs. Similarly, regular people are being sacrificed for corrupt reasons of saving the property of government officials.
14 – Endangering the lives of the people of the area by not protecting the maritime border with Iran, which led to the entry of smugglers (drugs, weapons), which resulted in crimes of killing and armed robberies by gangs and exchanging of fire near the shores. From the Sultanate's perspective, it is better if the local residents did not exist at all, since they are not fully on board with the authoritarian nature of the government, nor willing to overlook and ignore smuggling operations.
15 – Demolition and removal of homes of residents of mountainous areas which date back to thousands of years and whose owners have maintained for the purpose of continuing to live there providing untrue pretexts – the reasons for that are the same as above: depopulation, distortion and control of history, and use of the mountainous areas for smuggling and various operations.
16 – The policy of kidnapping, arresting and confiscating opinions of anyone who tries to clarify his point of view. Punishments imposed may reach more than five years imprisonment; many of the people of the area are prisoners of opinion and still in Omani prisons and detention camps. – The Shihuh have in recent years been treated even more severely in that regard than the rest of the population because of the perceived connections to UAE. This is a way of sending the message to the international community and Oman's neighbors not to meddle or to infringe on what it perceives as its sovereignty.
These allegations, however, no longer exist in English after the government has taken care to remove any references to these issues cited by the human rights activists who are now in prison.  On the contrary, research into water issues in Musandam has yielded shiny touristy reports about the uniqueness of the local water systems and the effort the government has allegedly undertaken to improve access to clean drinking water in recent years. As such, the Shihuh remain largely unknown and with no recourse to legal, political, or international humanitarian relief.
Recommendations for the Western governments, NGOs, and academic institutions
Pressure the Sultanate into acquiescing to humanitarian visits to the convicted Shihuh tribes members.
Encourage academic and think tank studies into the history, culture, language, and political and human rights issues related to the Shihuh people in the interests of preserving their unique attributes, as well as defending their rights.
Heads of Western governments and human rights defenders should not rest with these unconscionable convictions, but rather lean on Oman to suspend remaining sentences, release all of the Shihuh and other prisoners of conscience immediately, annul their convictions, and allow reasonable contacts with the human rights defenders and reasonable hearing of their grievances.
Corrupt Omani government officials and those involved in the abuse, arbitrary detentions, and convictions of human rights defenders, including the Shihuh should be subjected to the Magnitsky-type sanctions in the countries where such laws are implemented, and other relevant human rights sanctions. 
Furthermore, Oman's abuse of a helpless tribe and other peaceful activism is not furthering its internal security. The greatest risk to upheavals is not free speech, but rather unbridled corruption which contributes to property, excessively stringent laws, and close cooperation with Iran and various criminal gangs which have contributed to rising crime and bloodshed in vulnerable areas.
The media coverage of Oman has been excessively benign. Investigative reporters should look into claims regarding environmental devastation and pollution, discounting the PR-friendly information produced by the Omanian government. Organizations in defense of free press should stand up for the rights of journalists, bloggers, writers, and activists who have suffered in the course of providing the population with accurate information or peacefully criticizing government policies.
The risk posed to the local residents of Musandam by roving Iranian contrabandists and criminal gangs should be examined and exposed. Further relations with Oman should take into account its willingness to sacrifice the well-being of its citizens, some of whom have family in UK, for the sake of close cooperation with Iran. These human rights abuses ultimately enable Iranian and Houthi terrorism in the region, and thus are closely linked to international security concerns and considerations.
Irina Tsukerman is a New York-based human rights and national security lawyer and analyst. She has written extensively about geopolitics, foreign policy, and security issues for a wide variety of domestic and international publication. She has appeared on Fox Business, i24, and the John Batchelor Show, and has been interviewed by multiple Arabic language channels and publications, including Morocco's 2M and Al Arabiya. Her writings have been translated to Arabic, Farsi, Spanish, French, Portuguese,  German, and Indonesian.
*This post contains affiliate link(s). Click here for Affiliate Disclosure.