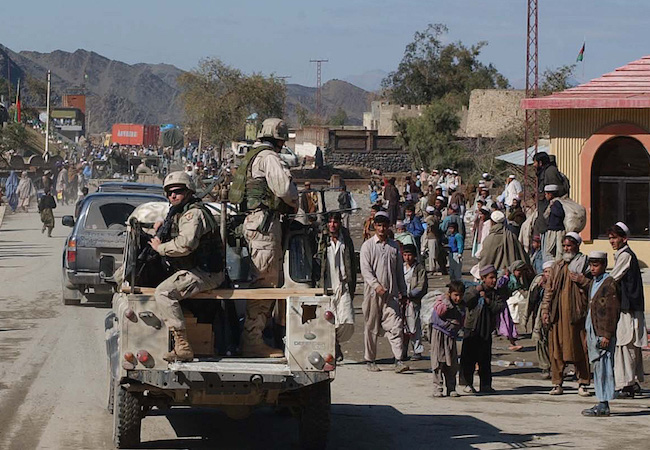 By Sher Baz Khetran 
"Pakistani cooperation on Afghanistan peace serves regional interests and builds stronger Pak-US relations," read a June 3, 2019 tweet from President Trump's special representative on Afghanistan, Zalmay Khalilzad. At the outset, chances of success were bleak because it depicted that if there is any kind of deal with the Taliban it would be a weak settlement which would not bring peace to Afghanistan. In fact, the apprehension got reaffirmed when on September 7, 2019; President Trump decided to cancel the peace talks with the Taliban. Apparently the reaction came as result of a suicide attack in Kabul on September 5, by Taliban in which 30 people including a US soldier and one Romanian service member of NATO Afghanistan mission was the cause.
Realistically, the Taliban negotiating team has been more flexible with the US interlocutors. Earlier, despite being in disagreement with the announcement of any accord if reached at Camp David,, Moulvi Haibutullah and few other Taliban field commanders reconciled. They never wanted to visit the US and considered it more of Trump's rhetorical move and wanted to finalise the deal in Qatar. According to Tahir Khan, Islamabad based journalist claims that the entire supreme council of Taliban did not allow the Taliban delegation to visit Washington. It would have given the US an impression of surrender from the Taliban. The revelation had come out  after President Trump called off the secret meeting with Taliban and Ashraf Ghani at Camp David.
Moreover,, the presence of Afghan President Ashraf Ghani was always irksome for them. They had never accepted the legitimacy of his government in Afghanistan. On the contrary Ashraf Ghani had been of the view that his government is an equal stakeholder and any peace agreement would be irrelevant in his absence.
The major development during the initial negotiations was the agreement by all stakeholders, especially the Taliban that was the denial of the Afghan soil is used for any terrorist activity and not to allow sanctuary to any terrorists organisation.
Nonetheless, after this unpredictable scuttle, the peace process in Afghanistan is once again pushed to a limbo with multiple questions to address. The future remains fluid.
Already, Doha peace talks were stalled earlier on. Both the parties could not agree on for who would first initiate the ceasefire. It was expected from Pakistan to mediate on the issue and a meeting was set for the Taliban negotiating team with the Prime Minister of Pakistan Imran Khan on February 17, 2019. It was however called off on the request of President Ashraf Ghani. On the other hand, Zalmay Khalilzad remained constantly in touch with the Pakistani higher officials since Pakistan wholeheartedly supported the peaceful resolution of the Afghan crisis. It had time and again faced severe criticism of the US as well. In fact, the US had suspended its military aid to Pakistan in 2018. Pakistan was often criticised for not playing a meaningful role to settle the issue and not dismantling the Haqqani Group. Pakistan had also been unjustifiably accused of providing sanctuaries to militants in its tribal areas.  Nonetheless, President Trump invited PM Imran Khan to Washington to discuss Afghanistan and other Pakistan related issues on 23rd July. Earlier President Trump had seeked Prime Minister Imran Khan's help by writing a letter on December 3, 2018 to defuse Afghan conundrum together.
Accepting President Trump's invitation, PM Imran Khan in July, 2019, visited Washington.  The talks on Afghanistan between President Trump and PM Imran Khan were significantly encouraging and had hit the same note on almost all issues concerning bilateral trade and counter terrorism. PM Khan also assured President Trump that Pakistan will make attempts to convince the Taliban for peace negotiations with the US and the Afghan government and to go for ceasefire as well.
Pakistan also managed to convince the US to follow through with some of its demands as well, such as, support for the IMF loan package and blacklisting of Baloch Liberation Army (BLA) as a foreign terrorist organisation by the US. Nonetheless, the muted reaction of President Trump on Indian Prime Minister Modi's controversial and most contested decision of  the revocation of Article 370 in Indian Occupied Kashmir and the declaration that it is a bilateral issue between India and Pakistan, has once again inflicted damage to the recently discovered understanding. It has once again enlivened the doubts in their relationship. Earlier President Trump had offered his mediation on the territorial conflict between India and Pakistan. The issue has been recently transformed into a humanitarian crisis since India is not granting the demand of self-determination to the people of Kashmir according to the UN resolutions and there is a complete information blackout for the last more than 40 days. India and Pakistan have already fought two wars and have reached to the brink of a nuclear flash point since the recent past.
In fact, Pakistan has expressed its incapability in its concerted assistance to resolve the Afghan issue in the backdrop of its engagement with the belligerent India on its eastern borders. No proactive diplomacy could also be pursued if Pakistan has to face an existential threat in view of its acrimony with nuclear  India.
Already Pakistan feels that the 'complete' withdrawal of US forces from Afghanistan will have its dire consequences on the region due to the vacuum in power created within Afghanistan. Moreover, the stakes of both India and Pakistan in Afghanistan provide yet another fertile ground for India and Pakistan in Afghanistan. Their support for opposing groups in Afghanistan would also be a fodder for a civil war in Afghanistan.
Afghanistan had already experienced a civil war after the Soviet withdrawal in 1998 since there was lack of  law & order being supervised by any coherent force. The peace remained elusive for a long time while giving space to the warring factions to thrive. Hence, the terrorists found heavens for themselves to augment their terrorist agenda. The post-conflict measures of rehabilitation, reconstruction and political support remained unattended and Pakistan had to bear the maximum brunt. Pakistan had to adjust more than 3 million Afghan refugees of a failed state for thirty years due to mass exodus. Its economy and security were severly compromised in both pre and post War on Terror (WoT) era. The maximum fallout was on its diplomatic support to tackle the disturbed neighbourhood. Instead Pakistan was often bracketed with Afghanistan in their foreign policy agendas mainly due to India's proactive lobby.
Pakistan is fearful of the same situation despite having given more than 70,000 lives in its war against terrorism in Afghanistan which originally was never its own war. Pakistan apprehends the same     situation is   in case of complete US withdrawal from Afghanistan.  If post-withdrawal measures are not taken and a proper framework is not formulated for capacity building of the Afghan government to take over control of Afghanistan, the country is definitely going to fall back into chaos, with different warring factions fighting for power, control and territory. It will have a huge destabilizing impact on the region as well.
The process of dialogue between the US and the Afghan Taliban has gained momentum over time, despite continued misgivings on both sides as well as what appears to be a temporary suspension of talks. Pakistan's role in the future course of this complicated engagement will be extremely important. It has already played a vital role in convincing the Taliban to come to the negotiating table, and its position remains significant, such as in compelling the Taliban to eschew violence as a means to strengthen their position even as dialogue continues. This is important since such an approach may antagonize the US and lead to the end of the peace process. Already, some stumbling blocks are evident – such as the cancelation of peace talks by President Trump, which has been criticized by the Taliban. If the US now decides to resume talks, it will be from a weaker position, and this will increase its reliance on Pakistan as well. This will have geo-strategic and political implications for all stakeholders and change the dynamics within the region as well.
Sher Baz Khetran is a research fellow working at the Institute of Strategic Studies, Islamabad