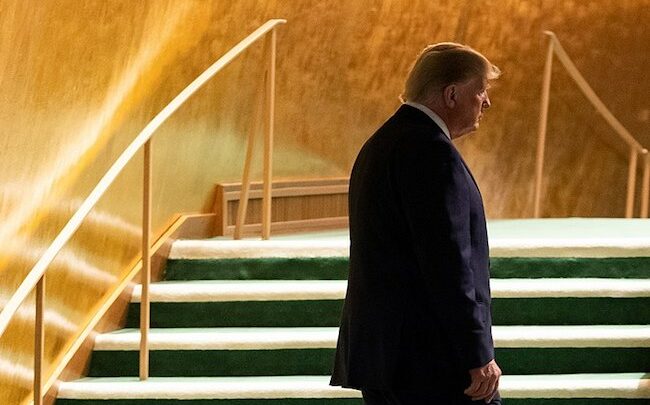 By Amna Saqib
The state of America has come into the failure zone very swiftly and carelessly under its 45th President, Donald Trump. US have already paid a heavy price including damage to its global reputation, loss of confidence of its traditional allies, global stability and security. Trump has been exercising his Presidential powers in a way that he has worn the authority and legitimacy of America's strategic dominance in the World as the outcome of 2016 elections. His unilateral actions also diminish America's diplomatic heft. US foreign policy under his leadership is unpredictable and there's no consistent approach to deal with the World. It also doesn't appear to have a reliable logic, as a result undermining its International role as well. His isolationist and foreign trade policy to "Make America Great Again" has locked US into struggle with China, Russia and with the rest of its allies. Assuming a more unilateralist approach, Trump has ignored the institutions pursuing his "America First" by ending it in a variety of ways. This is so because the elected man to the Presidency, Donald Trump, takes office with no prior experience in government and, in many respects, he has an apparently flexible outlook on domestic politics and foreign policy.
US failure goes far beyond Trump's toxic political style. The recent inability of Washington to respond adequately to Covid-19 shows that its competence is fading in health sector. Unfortunately, the administration failed to response against this seriously. The late insufficient testing of the virus led to a serious public health crisis. A quick and coordinated public health response could have controlled the pandemic better and reduced the increasing economic losses. Even as the United States approaches a 20% unemployment rate and suffers the highest COVID-19-related death toll in the world, Trump still continues to downplay the importance of testing. He also went on a global blaming campaign, accusing China of being responsible of the pandemic, his European allies who failed to stop the outbreak of failing to stop the outbreak early, and more recently, the World Health Organization (WHO), of acting late and spreading wrong information. Even now, his push to reopen the economy will unfortunately prove fruitless.
Constant failure of American Racism has also been observed during Trump's presidency. There has been a considerable increase in representation of White nationalism and supremacy in 2020.  Following to his own adaptation to accelerationism, Trump has done everything to destroy the image of state both by using hateful language and by turning a blind eye to many racially charged events that have occurred throughout his presidency.  He is intentionally infuriating the racial divisions rather than making any effort to ease them, and in many cases has even encouraged racism himself.  Further, Trump's racist rhetoric role within the state has been lingering out the commitment of US being a liberal nationalist state and is increasing the human rights violence within the state. Trump has botched to handle this violence seriously and has allowed the rest of the World to point finger at its domestic human rights policies. Obviously, the World has always appreciated US because of its democratic way of life and commitment to the observance of human rights. When the Trump administration rolled out inhumane immigration policies and promoted false narratives which enable racism and discrimination, the World will expect from US to put its own house in order first.
Regarding foreign affairs, President Trump has an impulsive style which is a matter of continuous controversy and intense scrutiny. He has simply made a number of foreign policy decisions that hurt everyone from U.S. domestic consumers to businesses with international supply chains to leaders of U.S. allies in Europe and the Indo-Pacific. His actions are quite obvious when he pulled US out from international treaties and agreements. It has included stepping away from some large multilateral agreements like the Paris climate accord or pulling back from some multilateral organizations, like the World Health Organization (WHO).
Similarly, the US-China relationship remains chaotic and unstable under his administration. As with trade, the building block of his foreign policy approach is 'America First'. On the other, Trump's national security commitment sounds dull when it comes to the US-Iran relationship. He has also created tensions with historically close US allies while approaching to adversaries like North Korea and Russia. Due, to his number of bad decisions, it is still contested that whether his approach to foreign policy is isolationist or internationalist that could have profound geopolitical implications. The cost of this negligence is finally coming due.
Facing such mega-crisis, the failure of the Trump administration to lead responsibly is proving an unexpected devastation to the US position in the world. Since WW-II, US supremacy in the World has been rooted in its unique capacity to get things done internationally by persuasion, by the threat or by the use of force. Moreover, with his impulsive actions, he is trying to end the international order by pulling US out of treaties, to denigrating allies, and to the start of trade wars. The world's responses are coming into sharper focus as consequence of his actions. Some states are looking for the ways to compensate for the effects of Trump's America First agenda. Yet others are trying to fit themselves with the Trump's presidential approach.
When it comes to the President of US then, every single word and action counts both at national and world level. With all his policies, President Trump will leave key government and international institutions undermined, US foreign policy establishment piercingly divided and America's position in the world stunted. To return to the normal, US policy makers need to reclaim the America's standing in the World and to take direct actions to restore its credibility again in the coming Presidential elections of 2021.
Amna Saqib is visiting faculty member at Preston University Islamabad and Research Officer at the Centre for International Security Studies (CISS)