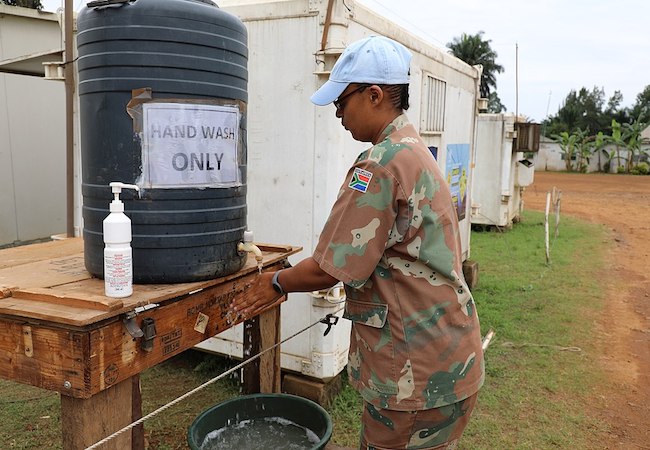 By Bukie Olokun
Since the outbreak of the coronavirus pandemic, health experts and policy makers have faced difficult questions regarding equitable global access to COVID-19 vaccines. Even before these vaccines were available for use, medical authorities were concerned that the African continent and other developing regions would struggle with vaccine acquisition and distribution. As feared, while the United States began vaccinating citizens against COVID-19 in December 2020 (less than nine months after the World Health Organization (WHO) declared a global pandemic), most African countries are still struggling significantly with their own vaccination initiatives. Without comprehensive external aid and assistance, Africa's 1.3 billion residents will remain especially vulnerable to COVID-19 and outbreaks of the coronavirus variants, causing further human suffering, economic devastation, and hindering global efforts to achieve worldwide herd immunity. To end the coronavirus pandemic, the United States and Europe must now focus on Africa.
During the initial outbreak of the coronavirus, the United States and Europe struggled to develop pandemic-response plans, whereas Africa's unique experiences fighting endemic diseases prepared medical experts to combat transmission of COVID-19 through coordinated efforts across the continent. But in spite of their initial successes, fatality rates on the continent are rising, and African nations are struggling to obtain vaccines. By contrast, Western countries slow to respond to the virus are leading in global development and administration of COVID-19 vaccines and there is now an obvious disparity in global distributions and availability.
In wealthier countries such as Canada, the United States, and the United Kingdom, governments have purchased enough doses to inoculate their populations several times over. According to The People's Vaccine Alliance, rich nations representing only 14 percent of the world's population have bought up more than half of the world's available vaccines supply. While wealthy countries sit on stockpiles, vaccines provided to Africa through the WHO and the African Union will only be sufficient to inoculate approximately thirty percent of the continent's total population by the end of 2021. Not only has the West failed to deliver vaccines to Africa, this "hoarding" of vaccines shows that vaccinating African nations is not viewed as a priority.
As the pandemic enters its second year, the geopolitical, economic, and social implications of leaving the majority of Africa unvaccinated are becoming clearer. The United States and Europe have focused almost exclusively on vaccinating their own citizens, creating an opportunity for China and Russia to once again exert influence by sending vaccines to struggling nations on the continent. Rushing to the aid of Africa is a move China and Russia have made consistently over the past decade in order to gain regional allies and access to natural resources, but this time, the geopolitical implications could be severe.
By the end of this century, Africa is set to play a much bigger role on the global stage and in multilateral organizations such as the United Nations. China and Russia's continued influence on the continent could undo the work decades of US foreign policy has accomplished and could weaken relations with the United States while strengthening their own. Both countries' blatant disregard for good governance, rule of law, and human rights could further exacerbate these very issues in Africa. Recognizing the potential implications of losing political affiliations to China and Russia, France called on countries in Europe and the US to send five percent  of their vaccine stock to countries in Africa. The US also recently pledged $4 million in funds towards the COVAX initiative, but more effort will be needed to offset Beijing's and Moscow's influence, and the United States could use vaccination initiatives as an opportunity to create new allies and shore-up existing relationships.
Many African economies are heavily dependent on commodity exports, foreign direct investment, remittances, and tourism, all of which have been significantly affected by COVID-19. Before the pandemic, growth was expected to be about 3.5 percent between 2020-21, but new data indicates that Africa is experiencing its first recession in nearly fifty years, and the International Monetary Fund estimates Africa will need $1.2 trillion over the next three years to recover from the pandemic. Further exacerbating the issue, there have been indications that some kind of proof of vaccination might be required for international travel in the near future. At the current rate of vaccination, Western countries are on track to reopen their borders and return to a sense of normalcy, but most African nations will be unable to do so until they catch up. Seventy to eighty percent of the African population is not expected to be vaccinated until 2022, and this would automatically limit their global market access for at least another year. Many crippled economies will continue to suffer the economic implications associated with COVID-19 if African nations are limited from interacting with the rest of the world and vice versa.
The social implications will follow. Africa has received a majority of AstraZeneca vaccines due to its easy storage and affordable price point. However, it is infamous for the potential side effects, including blood clots. This is particularly problematic for a continent with deep rooted vaccine skepticism. But regardless of manufacturer, Africa is plagued by bad infrastructure, corruption, and bad governance, which severely impacts the rate and availability of vaccinations in general. In many African countries, politicians, affluent members of society, and those living in urban areas are scheduled to receive vaccinations even before the most vulnerable. Healthcare workers, teachers and educators, those with preexisting conditions and others considered to be frontline or essential workers would be most affected, but unless they can afford the vaccine, they will most likely not be prioritized in the initial phase. This disparity in vaccine distribution could result in renewed civil unrest. In late 2020, protests were recorded across the continent and it has become apparent that Africans are willing to take to the streets to air their grievances in search of impartiality and basic rights.
While the COVAX scheme was created to ensure equitable access to the vaccine, nothing about the process has been equal. So far, only six million doses have been administered across sub-Saharan Africa. Only 41 African countries have received some portion of the allocation, and seven have yet to receive their first batch. Unfortunately, vaccine distribution has now stalled even further as countries hold on to thousands of expired vaccines while awaiting further instruction from the WHO on whether the doses retain efficacy and can be safely administered. In addition, the AstraZeneca vaccine allocated to the continent through the COVAX initiative is manufactured in India, but India has restricted exports of its domestically-produced vaccines as it battles a second wave of COVID-19. African countries need assistance, and the west is in a position to help. If Africa's response to the COVID-19 pandemic remains an afterthought for the United States and Europe, the consequences will be felt well into the future.
Bukie Olokun is the 2021 YPFP Africa Fellow. She is an EMEA focused intelligence analyst with experience in the private sector. She received her Master's degree in International Affairs from the University of Kentucky's Patterson School of Diplomacy and International Commerce. She received her Bachelor's from Indiana University. She serves as the Pracademic Liaison for the African Intelligence Studies Collective and co-host of the African Intel Affairs Podcast where experts share their perspectives on the intersection between academics and intelligence practice on the continent. Her regional interests include development, human rights, and terrorism and insurgency.