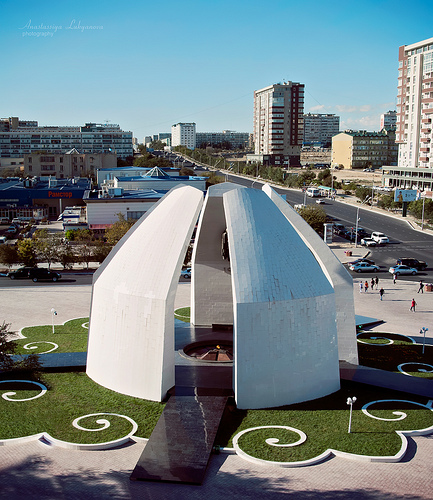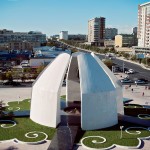 Protests that started on Friday, December 16 in Kazakhstan's provincial city of Zhanaozen, have spurred into mass demonstrations in several more locations over the course of two days. Up to 14 people are feared dead.
With an approximate population of 100 thousand, Zhanaozen is a city of oil workers in Mangistan district of Kazakhstan. The events which sparked the current unrest have been triggered by termination of as many as 989 oil workers from the oil firm Karazhanbasmunai in May of this year after up to 2,500 have taken it to the streets to protest against the company policies and demanding better conditions. The company is a joint venture of state owned KazMunaiGas and China's CITIC investment company.
The authorities claim the unrest in Zhanaozen began on December 16 after hundreds of protesters destroyed and burned celebration facilities erected on the city's central square for a holiday concert planned for the 20th anniversary of Kazakhstan's independence. Reportedly armed with sticks, metal rods and self-made Molotov cocktails, the protesters clashed with local law enforcement which eventually opened fire, killing up to 11 people and wounding dozens. According to representative of General Prosecutor's Office, Nurdaulet Suindikov (Komsomolskaya Pravda, December 17), many youths came to the square armed with an obvious intent to cause damage. Six policemen were injured along with 75 wounded among protesters. Kazakhstan's President Nursultan Nazarbayev immediately introduced a state of emergency for the whole district until January 5. The Kazakh army was brought in and entries to the city were blocked. The curfew was set to 11 pm to 7 am. Despite the army's intrusion, the unrest in Zhanaosen ignited similar protests in Shetpe village some 150 km away, where a group of protesters blocked the railway and burned several cars . Twelve have been reported injured, one dead.
On December 18, around 400 protesters gathered in regional city of Aktau (Rosbalt, December 18.) Local law enforcement of 500 and units of the army were brought in to take control of the situation. First Vice Premier of Kazakhstan Umirzak Shukeyev was tasked to meet with protesters who demanded immediate withdrawal of the army from Zhanaosen. In the meantime, the Kazakh officials have not ruled out there was an external intervention in domestic affairs of Kazakhstan alleging there was "foreign funding" to start the unrest but assured there would be no "Arab springs" in their country.
The events mark the deadliest protests since massacre of Kazakh civilians exactly 25 years ago in the capital Alma-Ata of Kazakhstan SSR, when close 200 people were killed by Soviet forces. Referred to as "Jeltoqsan" by Kazakhs, the 1986 events were caused by replacement of a long-term serving First Secretary of Communist Party of Kazakhstan, Dirmukhammed Kunayev with an ethnic Russian Gennady Kolbin. The Alma-Ata unrest followed by smaller scale protests in Shymkent, Pavlodar, Karaganda and Taldykorgan were put down by KGB special forces.
Kazakhstan, the ninth biggest by size country in the world with a developing economy, mainly due to its oil and gas reserves, have seen close to $120 billion in foreign investment over the period of 20 years since independence. Nursultan Nazarbayev have ruled the country since 1990.