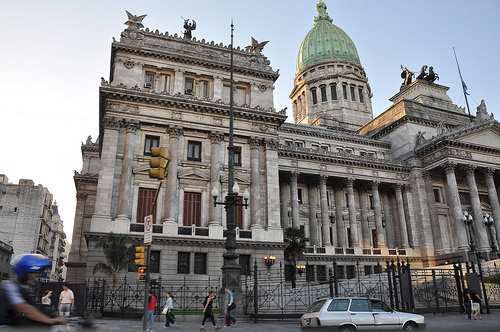 On Monday, President of Argentina, Fernandez de Kirchner announced the controversial state takeover of the largest oil company of Argentina YPF (Yacimientos Petrolíferos Fiscales) from its parent Spanish-owned energy giant Repsol. Argentina seeks to get a hold of 51% of Repsol which currently owns 57.4% of the company. YPF was sold to the private sector in 1992, when the government of Carlos Menem was conducting economic reforms and selling off the government companies to boost the economic growth.
Outraged by the move of President Fernandez, Repsol chairman Antonio Brufau, backed by government of Spain and the European states, strongly condemned the "discriminatory" act and pledged to take legal action againt the Argentine government. The government of the United States expressed its dissatisfaction with Buenos Aires stating it was "very concerned" by Argentina's plan to expropriate the Spanish controlling stake in YPF, underlining the actions by the Argentine government would negatively affect the investment climate in the country. The government of Spain, in turn, promised to take actions on all fronts, virtually vowing to start a trade war with Argentina.
After public rebuffing of rhetoric by management of Repsol, Spanish government and European Union, President Fernandez awarded the explosive project of expropriation to the deputy Minister of Economy of Argentina, Axel Kicillof, who is said to have been the initiator of the nationalization of YPF. Kiciloff, born on September 25, 1971, is one of the youngest members of the Argentinian government. He's often called "the kid" due to his young face and appearance. Axel, who goes by "Ax" among his friends, makes formal appearances in long neck unbuttoned shirts and without ties, breaking the commonly accepted dress code of government officials. In his late thirties, he was elected the leader of La Campora, the youth wing of Peronist party associated with the son of president, Maximo Kirchner. Making his way through the corporate ladders, he was given the responsibility for finances of Aerolineas Argentinas in 2009, after the government of President Fernandez de Kirchner nationalized the company which was rapidly losing money. According to company statements, under Kiciloff, the losses of Aerolineas Argentinas were trimmed from $943 milliion at the time of nationalization to $486 million in 2010. An author of two books on Keynesian economics, Dr. Kiciloff is defiant of Repsol's calculations and valuations of its stake in YPF, accounting to $10.5 billiion. Repsol claims that YPF which was bought in 1999 for $15 billion is currently worth $18 billion, referring to a latest undisclosed bid from another company which was willing to buy off Repsol's stake in YPF. Kiciloff stated that "The numbers that some executives talked recklessly about in valuing the company will be revised as we review the fine print and the secret information managed by the company", a comment which further hit YPF shares making them to fall 29% to 77.05 pesos. Chairman of Repsol, Antonio Brufau called it a "demagoguery" saying that "Mr. Kiciloff won't set the price. I don't think he knows much about valuing companies".
The government of United Kingdom, which had been locked up in Falkland Islands (Argentinians call it Las Malvinas), also criticized the government of Argentina for breaking its G20 commitments, stating its actions are "damaging to business interests and will undermine Argentina's economy by reducing its attractiveness to international investors"
The main objective of nationalization of YPF is its willingness to curb declining production of oil after the reserves of the company fell by 18% between 1998 (before being bought by Repsol) and 2010. Considering that YPF is the largest producer of oil in Argentina with more than one third of its output, that's a significant decline pushing the government to allow imports of hydrocarbons from elsewhere, something that the government of Fernandez de Kirchner is reluctant to do. Argentina's expenses for oil imports in 2011 went up by 110% reaching as much as $9.4 billion and according to Buenos Aires, YPF did not invest enough to enhance domestic production of oil. Argentina is home to 23 billion barrels of oil equivalent locked up in untapped shale oil reserves, 13 billion of which belong to YPF.
Evidently, oil imports put a hurdle on economic development of Argentina, recorded at an average annual growth of 7.7% since 2003. Inflation is estimated to be 23% versus 9.8% claimed by the government.
Photo: Courtesy of Flickr