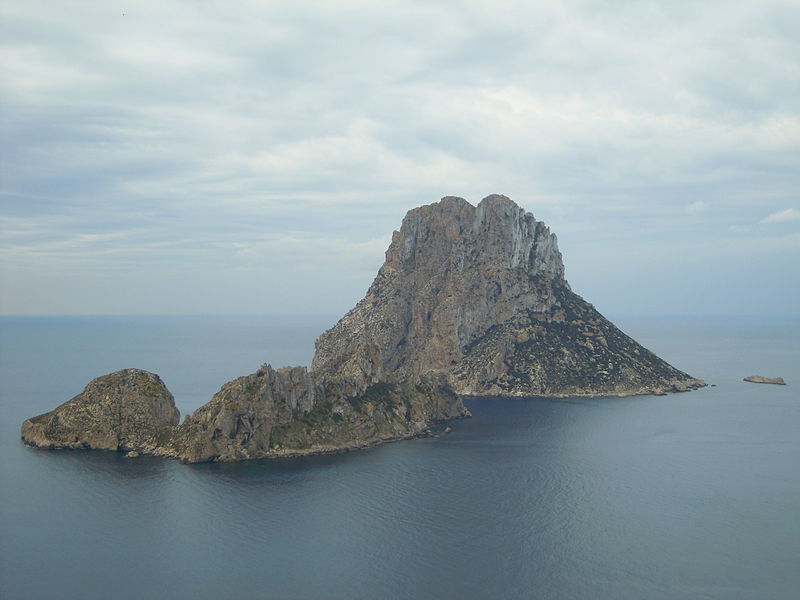 If you are into mysterious places enriched with magnetic anomalies and breathtaking legends, then your next destination is the Es Vedrà island off of the coast of Spain. Rumor has it that those who have wandered around the island have some stories to tell and these stories are not full of fun. But this is one place where curiosity won't kill the cat. You'll survive the adventure.
Es Vedrà is an inhabited rocky island a short distance from the southwestern shore of the Spanish island of Ibiza the shape of which reminds of a gigantic dragon with a submerging long tail.

If you take a compass with you to the island, it will render itself useless due to the magnetic field on and around the island. There could be problems with working appliances, as well. Same can be said about the cellular connections, or at least, that's what some visitors say they had experienced.
The island is believed to be home to sirens and sea-nymphs that tried to lure Odysseus from his ship in Homer's Greek Odyssey. It is also regarded the holy island of the Tanit, the Phoenician lunar goddess, worshiped as the goddess who became Ibiza's patroness. The mythology claims the specific sacrifices were made to Tanit during full moons on the shore of the island.

Some travelers have stated that they had experienced surge of energy after visiting the island, which is explained by the scientific specifications of the place. The island ranks third for its geomagnetic power in the world after the North Pole and Bermuda Triangle. There are no recreations on the island, ones you would find on Ibiza, but tourists seeking adventure usually rent boats from the locals to visit Es Vedrà.
Es Vedrà has an abundance of unique species. Due to its rich flora and fauna the island has a status of a national reserve.