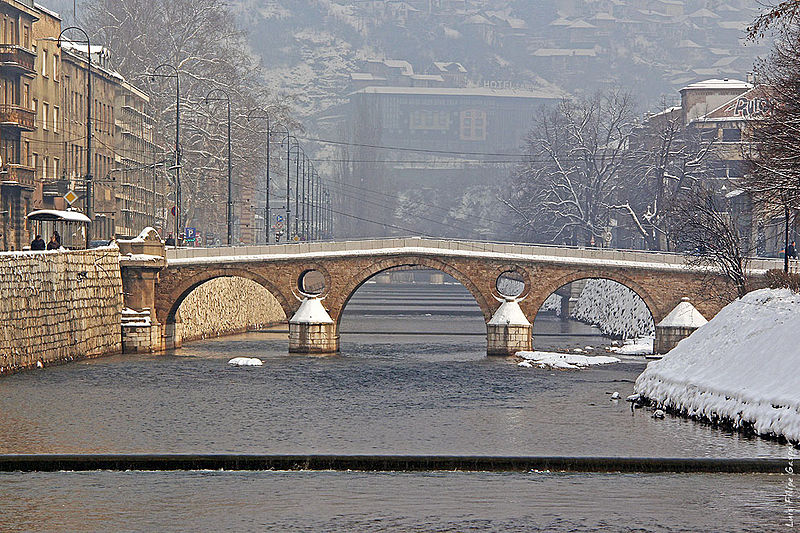 By Peter Tase
'An Engaged Artist Is Not A National Artist But An Artist Of Nations' – these are the words of a prominent Bosnian writer Sabahudin Hadžialić.
Sabahudin Hadžialić was born in September 23, 1960 and grew up in Mostar, Bosnia and Herzegovina. Today he is a member of the Bosnia and Herzegovina Association of Writers (Sarajevo, BiH), Croatian Writers Association Herzeg Bosnia (Mostar, BiH), Association of Writers in Serbia (Belgrade, Serbia), Association of Writers of Montenegro (Podgorica, Montenegro) and Journalists Association of Bosnia and Herzegovina, Association of Independent intellectuals "Circle 99", Sarajevo and Ambassador of POETAS del MUNDO in Bosnia and Herzegovina.
Hadžialić is a Freelance Editor in chief of the electronic and print magazine "DIOGEN" pro culture, and Editor-in-Chief of the electronic magazine MaxMinus from Sarajevo, Bosnia and Herzegovina.
Hadžialić has been nominated as a Distinguished self-sustained artist in the Canton of Sarajevo since January 2009. As of January 2013, Sabahudin has been acknowledged as a distinguished self-sustained artist in Canton of Sarajevo by the Decision of the Minister of Culture and Sports of the Canton. He writes poetry and prose that is edited, translated and reviewed by many international poets abroad. Hadžialić works as an honorary professor in the International University Travnik (BiH), Faculty of Media and Communications.
Hadžialić has worked as a freelance editor in the publishing house Dhira, Küsnacht, Switzerland (2009-2012).
Hadžialić has published poems, articles, essays (PR), aphorisms, plays and short stories in almost all major newspapers & magazines in Bosnia-Herzegovina, Serbia, Croatia, Slovenia, and Macedonia. His poems, short stories and aphorisms have been published in various journals of England, Ireland, Spain, Republic of Kosovo, Italy and the United States.
His writings are translated in the following languages: English, French, German, Spanish, Turkish, Italian, Arabic, Polish, Estonian, Albanian and Romanian.
He was the co – owner of the first private newspaper in SR BiH "POTEZ", Bugojno, Bosnia and Herzegovina – 1990. Hadžialić has written and published fourteen books of poetry and prose.
Hadžialić has published four books abroad: Book of poetry in France 1998 (French language), Book of aphorisms in Italy (Italian language), Book of poetry "Beggars of mind" (published in Bosnia and Herzegovina back in 2003.) in Switzerland (German language) and "Selected poems" book of poetry (in English, German, Italian, Albanian, Spanish and French language). His written work has been included in anthologies of poetry in France, Canada and Bosnia and Herzegovina, and in the Anthology of satire of Bosnia and Herzegovina and the Balkans. Has co-edited the volume of "Poets for World Peace" Vol. 3; an Anthology of poems – poets from 25 countries from all around the World together with Dr. Ram Sharma from India.
Hadžialić has won several awards among which are: "May pen" for the best young poet of former Yugoslavia in 1987 (Svetozarevo). He lives in Sarajevo, Bosnia and Herzegovina.
Short Interview with Mr. Sabahudin Hadžialić
"An engaged artist is not a national artist but an artist of nations." — Sabahudin Hadzialic
Peter Tase: What are some of the challenges faced by the Literature of Bosnia Herzegovina today?
Sabahudin Hadžialić: First of all, Mr. Tase, I would like to underline some thoughts related to writing of the prose and poetry in general, which is not within difference neither for Bosnia and Herzegovina, nor for any other country in the region and beyond: It is not difficult to write. It is difficult to know how to write. "Everyone can write poetry, but only a few can write a poem." But, in Bosnia and Herzegovina, besides the above mentioned challenges you have more significant, human challenges. Namely, to be an engaged artist – writer and a poet, he or she cannot be a national artist.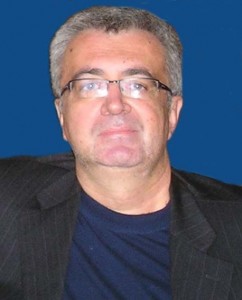 A writer must be an artist of all nations. If he wants to be an artist at all; that is the second challenge which is present today in our literature in Bosnia and Herzegovina. Why? Social influence produces multiple reflections within engaged arts of writings, and for me the writing is an art of the soul expressed by all the means of writing and its genres. Especially produces a writing of multiple reflections within a deeply divided society such as Bosnia and Herzegovina.
On one side we have visible capability of the art of writing to identify ethnic groups, environment and obedience. On the other side of "the bridge" there is completely other extreme of exclusiveness, anarchism and disrespect (all what has been told on the "left bank of the river" for me on the "right bank of the river" is excluded as nonsense sublimaris) for everything that comes from the other side.
But on the bridge is something that can really be truly an engaging art of writing with the same deflection from the left and right options. You could call it a civilian recognition of the critical observation of reality. The basic creation of another possible modality can be found in a new formula that does not exclude quality at the expense of quantity and making sure that the opposite is not happening. How to shape the elements mentioned above?
By not excluding the reflection of the roots' foundation and including the fingerprints of direct communication.
2. Through transparency of your own mission in meeting the face of a naked biography of reality.
3. By refraining from nepotism, national and gender exclusivity.
4. Through the articulation of your own mistakes as assumptions for possible solutions – improvement of our performance in making a substantial contribution to society.
5. Through non-hatred as a basic principle for the initial understanding and in a latter step, even though intentional are almost identical.
6. Understanding that goods and benefit are acquired in the long run and not right away.
7. Through an open form of communication with a clear vision of what you are doing is aimed towards the ultimate truth and is in the benefit of your fellow citizens, and after that Bosnian (Muslims), Serbs and Croats.
Third but not least, the challenge is certainly the inflation of writers, literary festivals and "critics/reviews" and deflation of literature that are indirectly linked to the first challenge mentioned above. Shortly- as late poet Branko Miljković from the former Yugoslavia (1934-1961) once said within the title of his poem: "POETRY WILL BE WRITTEN BY EVERYBODY". Yes, through social networks, everybody writes not only poetry but also prose and all other footprints of their soul, regardless of its quality, quantity will always be there.
Finally, what about the future of the literature? Only through the knowledge. But the knowledge which are using facts and not the knowledge based on myths. For the explanation of the last word within previous sentence we would need more space than your magazine can provide for this kind of interview. I will put everything just in one aphorism of mine:"Why we are having wars here? Are we not just three tribes of the same people?" (sic?!)
PT: What is the focus of your research and writing?
SH: If you ask me about the research as a separate entity, in this case, within the research of a new media, I am the Editor in chief of two magazines that are reflected within the "new" and "old" media, in this case, the basis of my research is to connect, integrate, and above all to improve understanding of a "new media" in the context of holographic galaxy (Gutenberg galaxy is on the scaffold of the history) in which we currently live.
Specifically, as a lecturer at a University (working as a Senior Assistant Professor at the Faculty of Media and Communications in the International University – Travnik, with my degree of a Master of Science in Media and Communications with an objective to pursue my studies for a doctorate degree in the same field) my field of academic activity, in addition to the usual everyday "learning of knowledge" that I am trying to convey towards my students, is by all means the research about the "Demagogy of media – information or manipulation (the role of social networks on the web)." In fact, knowing that the control of thoughts is the hypothesis of the creation of any government:
However, how would I be able to see the possibilities of communication within social networks on the World Wide Web? Are the social networks within the Internet appearances, as a possible alternative to modern dictatorship of democracy (this democracy that is offered to us comes from the modern USA; its stands in nothing more than export of free market and not export of democracy, because free market excludes democracy – how is that?- just check out the current tycoons and their workers of former Eastern European countries – I prefer more the social systems of Northern European countries, such as Norway, Denmark, Sweden, Finland and nowadays even Uruguay), something else, after all, than the endless highway of absolute democracy?
Do we have in front of us just another shape of a media demagogy or the real factual shaping up of a total communication within the general forms of informational targeting of the population? With the information that 1.29 billion (January 2014) people use Facebook as a communication tool with real and virtual friends around the world, whether we have a tsunami in front of us or an immediate information site, open and total awareness of the individual, are we "controlled, absorbed by a form of consciousness" which is affecting us whether we are conscious or not.
Convinced that social networks & social media are the tools that present a great importance for the future forms of communication:
a) between individuals and individuals
b) between individuals and groups
c) Between groups and community
d) Between all of the above…
My opinion is that methodological assumptions, focused towards understanding of the underlined hypotheses, is possible to implement in the environment of social networks & social media, virtual world, as well as in its local and global communication environment of the real world.
The basic prerequisite for this is a game of universal human emancipation through communication and within social networking & social media is the responsibility of journalists and media professionals whose behavior must be transferred from the traditional way to a new media, according to a basic code and ethics of the profession, in other words – journalist profession.
Assumptions are there, but it will depend not only on individuals but also the seriousness of the wider community that the backbone of the social contract that we call the state and country is made by people and their differences reflected through a group or community in which they live. Social Networks & Social media can be an extremely powerful tool just for that; if we are able to use it in accordance to the methodological indications.
"An nesci, we fili, quantilla prudentia nundus regatur"
(Do not what you know my son, with how little wisdom the world is ruled?)
Exactly the social network & social media can be the governing power to direct hopes and finally the entanglement of the virtual and the real in relation to the individual, group or community, as much as we think we are far away from that, bearing in mind the fact that we have long passed the Gutenberg galaxy and entered the Holographic one.
Why not just cultivate Holographic tools, and make it, first and foremost, human, just with the use of social networks & social media.
So, as I specified, as an Editor of DIOGEN pro culture magazine (http://www.diogenpro.com), a magazine for culture, art, science and education and MaxMinus magazine ( http://www.maxminus.com), magazine for satire , humor, cartoons and comics, Through a unifying diversity, I am just trying to visualize the importance of both "old " media (print- because each "new" media has brought together the advantages of both new as well as old media) and "new" media within the human, artistic cohesion. With the objective of shaping and making time and space in which we live bearable, until finally, one day, each of us does not return to go back to the energy given to him by birth. And death.
Of course, when I am talking about the first magazine, I would not have been able to do it without the members of the Editorial board (these magazines are registered in Switzerland, editing coordination made in Bosnia and Herzegovina, and the editorial board members come from all the neighboring countries and beyond): Samira Begman (Switzerland), Đurđa Vukelić ​​Rožić (Croatia), Tatjana Debeljački (Serbia), Alma Jeftić (Bosnia and Herzegovina), Stane Jagodič (Slovenia), Hristo Petreski (Macedonia), Vladislav Pavičević (Montenegro) and Goran Vrhunc (Bosnia and Herzegovina) but also including Stevo Basara (Canada) who was its designer in the first two years and provided an outstanding contribution to the visual appearance of the magazine. This magazine is in a virtual, online form, but also in printed form and made of "three in one" magazines. In fact, since 2009 until today we published a 4 issues of annual DIOGEN pro culture magazine ( if we are counting the number that just comes out of the printing on 21.03.2014., World Poetry Day and the First day of spring), 45 issues of DIOGEN pro art magazine and 2 issues in December DIOGEN youth magazine. There are certainly also our columnists who in addition to the members of the editorial board give special mention to the magazine, but also including our authors, 284 of them (poetry and prose) from more than 60 countries worldwide.
Within the organization of Sabahudin Hadžialić, MSc (on behalf of DIOGEN pro culture magazine) and colleagues Alma Jeftić, M.A. (in front of the International University of Sarajevo) in the month of April will be held scientific symposium "I International Symposium on Culture of Remembrance" Bosnia and Herzegovina – Culture of Remembrance: Twilight or a New Awakening". Accordingly, in the period of April 12 to April 13, 2014, we shall talk about the past through various forms of discourse: science, art, literature, philosophy … The campus of the International University of Sarajevo will host scientists, artists, philosophers and writers from all over the region and beyond. In the name of the past and its revival. Just visit the site of DIOGEN pro culture magazine for details: http://www.diogenpro.com/symposium.html.
Equal importance is given to another magazine as well (published in online form in a PDF format every three months, and occasionally in printed form) in which a significant role, next to me, certainly has a counterpart, famous cartoonist Peter Pismestrovic from Austria, as well as members of the Editorial board, which also comes from neighboring countries, but, of course, and beyond: Petar Lazić, Serbia; Aziz Yavuzdoğan, Turkey, Goran Radosavljević, Serbia, Sanja R. Petrovic, Serbia; Samir Begman, Switzerland, Mirjana Marinkovic, Serbia; Zlata Zunic, Bosnia and Herzegovina, Andrej Glisic (02.15.1944. – 09.03.2012.), Serbia; Suno Kovacevic, Bosnia and Herzegovina Ekrem Macić, BH; Boban Miletic Bapsi, Serbia, Ivo Mijo Andric, Croatia; Jasmin Mrkalj, Slovenia; Zoran Spasojevic Paske, Serbia; Vladislav Pavicevic, Montenegro, Abdurahman Halilovic, Croatia; Slobodan Žikić, Serbia; Vasil Tolevski, Macedonia; Pavle Popovic, Serbia & Herzegovina; Ernest Bučinski, Bosnia and Herzegovina, Marcos Ribeiro Mendes TUBA, Brazil; Enes Čelosmanović, Croatia, and Jože Kos Grabar, Slovenia.
Well, now we come to the literature as my own modus Vivendi. The area of my interest, within the various forms of presentations is: poetry, prose, essays, aphorisms & thoughts. I have published 15 books (Bosnia and Herzegovina, France, Switzerland, Italy, Serbia) in the above mentioned literary fields, and also being translated in 15 languages of the World (for Magazines and Anthologies), published books in 5 languages, but my main language is a language of writing (prose and poetry). Currently my focus of literature research is freedom, and to be more precise – search for freedom. I quote my short story: "FREEDOM – They say that I am exaggerating. That I cannot change everything. That there will always be a ruler and the ruled ones. And I answer that I know that there is no absolute freedom. But there is nothing more beautiful than the struggles and aspirations for freedom. About the Absolute already all have been said. And written. About Freedom? We are writing!"….end of quote.
My last book was published in Belgrade (Serbia, 2013 – and promoted in Bosnia and Herzegovina and in Serbia, and in may 2014 in Slovenia will be promoted as well). It was a novel (publisher was famous Serbian publisher MostArt: http://www.mostart.co.rs/ ), first part of my trilogy (next part will be published in 2015) CROSSROADS OF THE WORLDS, First part- THE BOX OF LIFE, in which, through the main characters of two parallel stories (within XI and XXI century research of the area of former Yugoslavia and beyond) doing a research trip seeking for love and freedom, which are the basics of human existence. It is up to the readers to make the judgment of that, because on the exact moment when we finish writing, regardless whether it is a poetry or prose, that does not belong to us anymore. It belongs to the readers. I think you should ask them about my research within literature. Me? I am just a small insect of civilization of lost hearts.