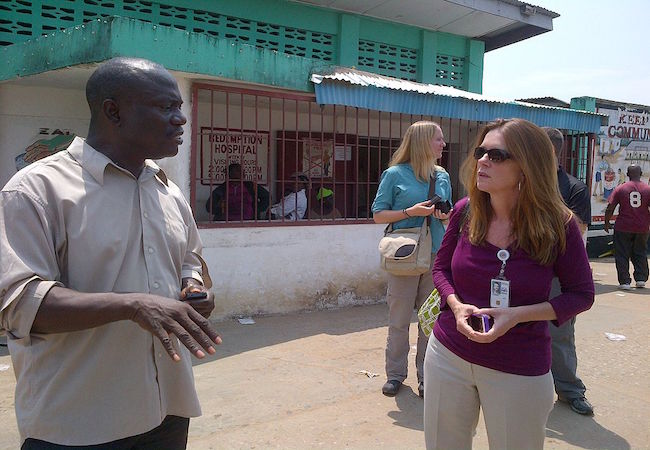 A large clinical trial to assess the safety and efficacy of two Ebola vaccines began in the West African country of Liberia on Monday, said the U.S. National Institutes of Health (NIH), which sponsored the research.
The trial, led by a recently formed Liberia-U.S. clinical research partnership, will first take place in and around Monrovia, capital of Liberia, with 10 vaccination centers involved, said the NIH, which sponsored the research through its division called National Institute of Allergy and Infectious Diseases (NIAID).
In the end, the trial, currently anticipated to be completed in June 2016, will enroll about 27,000 healthy men and women aged 18 years and older, it said.
In addition to healthy adults in the general population, the trial will seek volunteers from groups at particular risk of Ebola infection, including health care workers, communities with ongoing transmission, contact tracers and members of burial teams, the U.S. agency said.
The two vaccine candidates, cAd3-EBOZ and VSV-ZEBOV, have been found to have an acceptable safety profile and can prompt immune responses needed to protect against infection during initial trials with small groups of healthy volunteers in the United States and Europe.
One vaccine candidate, cAd3-EBOZ, which was co-developed by NIAID scientists and GlaxoSmithKline, uses a chimpanzee-derived cold virus to deliver Ebola virus genetic material from the Zaire strain of virus causing the outbreak in Liberia.
The other candidate, VSV-ZEBOV, which was developed by the Public Health Agency of Canada and licensed to NewLink Genetics Corp., employs vesicular stomatitis virus, an animal virus that primarily affects cattle, to carry an Ebola virus gene segment.
Participants will be assigned at random to one of three equal- sized groups. Volunteers in one group will receive a placebo injection, while the others will receive a single injection of either the cAd3-EBOZ vaccine or the VSV-ZEBOV vaccine.
All participants will be advised on how to minimize the risk of becoming infected with Ebola virus and will be contacted by study staff about one week after the injection and then monthly for the duration of the study, which is currently expected to last about 12 months.
"It is imperative that any potential countermeasures, including vaccines, be tested in a manner that conforms to the highest ethical and safety standards in clinical trials designed to provide a clear answer to the question of whether a candidate vaccine is safe and can prevent infection," NIAID Director Anthony Fauci said in a statement.
"This trial is designed to provide such answers," Fauci said.
The Ebola epidemic has infected more than 22,000 people and claimed more than 8,800 lives over the past year, according to the World Health Organization. Currently, there are no approved vaccines or treatments for Ebola.