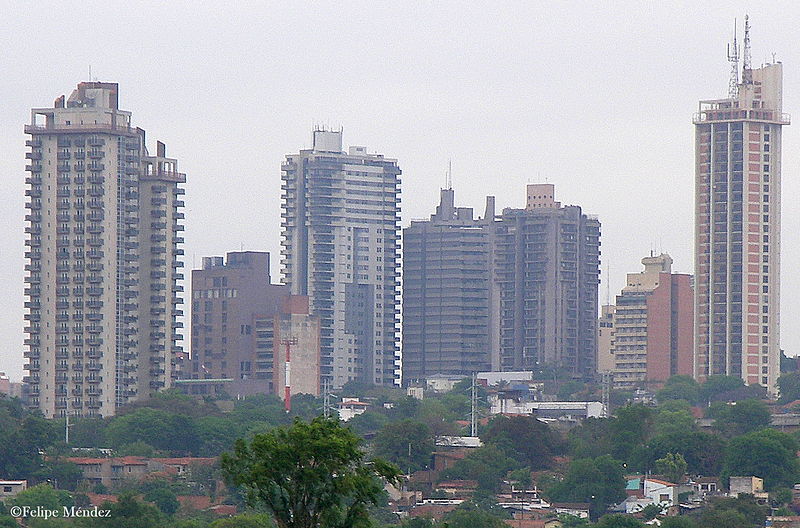 By Peter Tase
Traffic of influence, nepotism, corruption and destruction of evidence and a whole network of accomplices, does not get worse than the office of Chancellor Froilán Peralta at the National University of Asuncion (UNA), Paraguay's largest public university and the only university included in the world's list of 500 best universities.
Pressured by over six thousand students, protesting over the last ten days, Chancellor Froilán Peralta resigned from his duties on September 25, 2015, a date that will be deeply engraved in the history of Asuncion's largest university, due to his reiterated corruption scandals – in only 15 months as UNA's Chancellor – that were revealed and denounced by the national Paraguayan media in a very proactive manner. Peralta will be remembered for ever as the pimp Chancellor of Paraguay or as some call him the "Ferrari" of Senator Juan Carlos Galaverna, a flamboyant leader of the Colorado Party, (the largest political organization in Paraguay) who had catapulted Peralta in this important leadership position.
Chancellor Peralta is charged with nepotism, a number of corruption cases, ill management of public money and for naming a dozen of family members and close associates; without a proper education and training in key positions at the Chancellor's office. Peralta had led a whole scam of nominations, appointments in key colleges and irregular salaries awarded to his close circle of confidants, a close circle that even Joseph Stalin would admire the way he operated. UNA's pimp Chancellor, during his first year in office had led over twelve working visits abroad, including Panama, Brazil and other European countries, accompanied by his well paid young and good looking assistants and secretariat staff equipped with false university degrees and others without any degrees.  Some of the accomplices and confidents of Peralta are: María del Carmen Martínez Méndez (a university employee who was trying to flee the university campus in an SUV filled with documents that could shed more light towards Peralta's corruption grid, but fortunately was halted by brave students until authorities could come to arrest her and other accomplices). Martinez had her sister and niece (a university student) with salaries at the College of Veterinary Medicine. All these women are arrested and detained at the police station in San Lorenzo city for destroying documents that were connected with the abuse of power by UNA leadership.
Since September 17th, thousands of students at the National University of Asuncion mobilized day and night and requested the immediate resignation of Froilán Peralta from his duties.  Within the next five days, Froilán Peralta will go to Paraguay's well known penitentiary of  Tacumbú, thanks to the order given by judge Lici Sánchez, who had issued this order, despite Peralta's attorney offering thousands of dollars in return of securing the former chancellor's freedom.
Peralta is the architect of orchestrating the felonies committed by twelve individuals of this corruption case involving the following suspects: Ruth Cogliolo Izquierdo, Evelyn Caballero Izquierdo, María Villagra Ortiz, Silvana González Noguera, Jéssica Estigarribia Medina, Chiara Izquierdo Sosa, Jorge Giménez Paredes, Érica Patiño Cogliolo, Gladys Izquierdo Sosa, Hayde Medina Insfrán, Noelia Cogliolo de González y María Orué de Gómez.
However the enormous efforts of students who are fighting for a more transparent and meritocratic system within UNA's human resources and infrastructure sectors does not end here; now is the turn of Antonio Rodriguez Rojas, dean of the College of Economic Sciences, to explain why has he spread the institutions public money through dozens of salaries to his family members' pockets.
These actions and stances were taken by the majority of students of Economic Sciences who have denounced Rojas' drive for nepotism and corruption scandals that have taken place over the last three years. Rojas, Asuncion's kingpin, has not appointed well experienced professors; instead he had given juicy salaries to students of economics who had not yet received their university degrees. A typical example of this abuse of power is Rojas refraining from appointing a well experienced professor such as Prof. Francisco Ruiz Diaz Lopez.  Recent initiatives led by the students at the College of Economic Sciences, were also commended by President Horacio Cartes who had sent a supportive message via twitter from New York.
Eight years ago (2007) I had a conversation with Dr. Raul Avila (former dean of UNA's School of Medicine) about the nepotism cases that were taking place at UNA, under the leadership of Chancellor Pedro Gerardo Gonzalez. At that time Gonzalez was prudent and kept a good working relationship with all sectors of the university and was an expert in maintaining a lid over a boiling pot full of scandals; however Dr. Avila mentioned that "unless students and faculty members do not protest, corruption and misuse of public money will persist."  According to Arturo Cano, a student of UNA, protests will persist until every corrupted university official goes to jail.  Dr. Avila was right and today students of National University of Asuncion are equipped with a genuine conscience and demand real answers and resignations of the evil leadership that is running an institution that has become the most corrupt university in Latin America and the Caribbean.