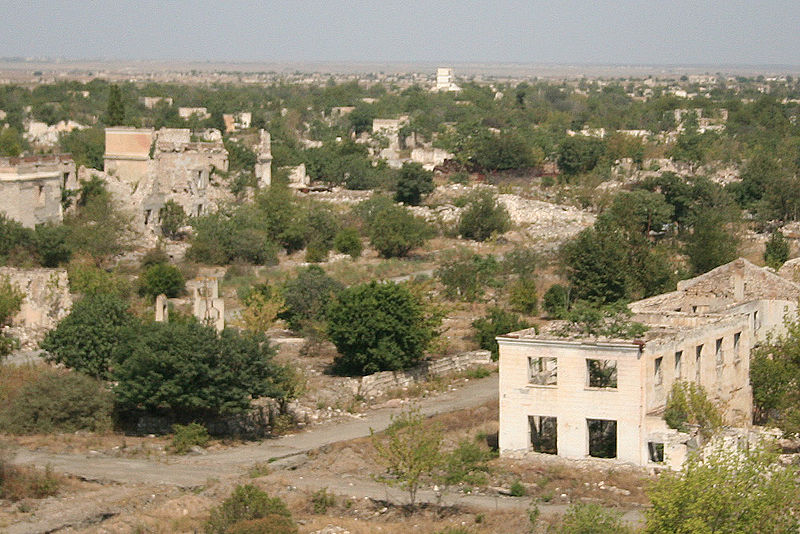 By Saima Ali
Long-simmering tensions between Armenia and Azerbaijan blazed again Saturday, with at least 18 Armenian and 12 Azerbaijani troops killed in fighting, according to state media reports. The aggression was centered in Nagorno-Karabakh, a region occupied by Armenian forces but surrounded and recognized internationally as part of Azerbaijan. Where it belongs has been in dispute for years, though it's been relatively rare of late for this disagreement to erupt in bloodshed. Nagorno-Karabakh, which lies inside Azerbaijan but is controlled by ethnic Armenians, has run its own affairs with heavy military and monetary backing from Armenia since a separatist war ended in 1994. But the situation along the tense "contact line" worsens in recent weeks, leading to clashes in which dozens were killed that drew international calls for an immediate ceasefire. Both sides also reported civilian fatalities.
More than two decades ago, the two former Soviet republics fought a fierce war over the Nagorno-Karabakh region. Azerbaijan gained formal independence from the former Soviet Union in 1991 after initially declaring its national sovereignty in 1988. Since then, it has been locked in a territorial dispute with ethnic Armenian separatists. A six-year conflict from 1988 to 1994 saw separatists, backed by troops from Armenia, and Azerbaijani forces fight over the Nagorno-Karabakh and Nakhichevan regions in southwest Azerbaijan. In 1994, a ceasefire was reached, but by then, the separatists, who are seeking full independence from Azerbaijan, had taken control of Nagorno-Karabakh and seven surrounding provinces. What were the reasons behind this recent wave of violence, how this all started and who's to blame are the queries need to answered. However each county blamed the other for the fresh hostilities. That aggression not only started a new wave of clash along with that never ending blame game continued.
According to Azeri media An Azerbaijani Mi-24 helicopter carrying out airstrikes on Armenian military positions was shot down, and a mine blast damaged a tank. Six Armenian tanks and 15 artillery pieces were destroyed, while over "100 enemy soldiers were killed and injured. On the other hand President of Armenia, Serzh Sargsyan, said 18 troops were killed and 35 wounded "because of the confrontational actions made by the Azerbaijani armed forces along the entire length of contact line with the Nagorno-Karabakh region. Armenia said "the adversary" undertook "offensive actions," trying to "infiltrate deep into the defensive lines of the (Armenian army) and seize tactical positions using tanks, artillery and air force."  The Armenian military "strongly condemns the hostilities and the aggressive and irresponsible decisions made by the Azerbaijani authorities," the ministry said. "Azerbaijani authorities are to be held fully accountable for the unprecedented escalation of tensions along the Nagorno Karabakh and Azerbaijan contact line."
The Azerbaijani government, by contrast, characterized the Armenian forces as the aggressor. Hikmat Hajiyev, a Foreign Ministry spokesman, accused them of intentionally and "intensively" shelling "settlements near the front line, where civilians closely live." He said the Armenians "killed and injured several civilians," in addition to firing on Azerbaijani troops, "As an aggressive country, Armenia bears responsibility for the current situation."
The U.S. State Department condemned "in the strongest terms the large-scale ceasefire violations, resulting in a number of reported casualties, including civilians. We urge the sides to show restraint, avoid further escalation, and strictly adhere to the ceasefire," said the statement, urging the two sides to enter into negotiations. "We reiterate that there is no military solution to the conflict." It called for both sides to start negotiations.
A long-boiling, violent feud in Eurasia is now on pause — at least according to one of the dueling countries. Taking the initiative, Azerbaijan showing good will said on last Sunday it would cease fire Armenian-backed separatists over the breakaway Nagorno-Karabakh region after two days of clashes, but the other side denounced Baku's gesture as hollow and said violence was continuing. Armenian News Agency said Azerbaijan was still attacking with missile artillery systems. "The statement by the Azerbaijan side is an information
trap and does not amount to a unilateral ceasefire," Artsrun Hovhannisyan, spokesman for the Armenian Defence Ministry said."As a result of the rival's bombardment, houses, trees, as well as gas pipelines feeding the city (of Martakert) in Nagorno-Karabakh have been damaged, Armenpress reported. On the other hand Azerbaijan said it reached a unilateral ceasefire decision "to stop counter-attacks and retaliatory action against the enemy in the occupied territories of the Republic of Azerbaijan" after international calls and the country's efforts to pursue a "peaceful policy," the news agency Azertac reported. But Azerbaijan said it will respond to any continued "provocations" with "offensive operations in order to destroy the enemy."President Ilham Aliyev said "Armenia has violated all the norms of international law. We won't abandon our principal position. But at the same time we will observe the ceasefire and after that we will try to solve the conflict peacefully," Azeri troops had achieved a "great victory" in an apparent reference to territorial gains made on Saturday.
Armenian officials said, the fighting had not let up and Deputy Defence Minister David Tonoyan said his country was ready to provide "direct military assistance" to Nagorno-Karabakh forces if necessary. The Azeri Defence Ministry said earlier on Sunday it would "cease retaliatory military actions" against the separatist forces. The previous day it said the Azeri army had "liberated strategic heights and settlements" in the north and east of the region. The Nagorno-Karabakh military said Baku's statement on a unilateral ceasefire was "disinformation" but that it was ready to discuss a ceasefire proposal from Azerbaijan on the condition both sides returned to their positions held before the clashes erupted. Such ethnic conflicts which are becoming more challenging with the passage of time need serious attempts to negotiate settlement. For solution of that conflict different talks held under Organization for Security and Cooperation in Europe (OSCE) but failed to encourage peaceful negotiation in past. Multiple efforts over the years to reach a permanent settlement led by France, Russia and the United states have failed. Baku frequently threatens to take back the mountain region by force. It is time that UN launches its peace keeping activities in the area and do something to prevent such bloodshed. Neither Baku, nor Yerevan can afford to be seen to compromise over the issue. At the very least, the demands from both sides should have to be addressed. Consequently the never ending blame will continue in future if the clash between Azerbaijan and Armenia expands.