HOME
China and Pakistan together for the fortification of maritime security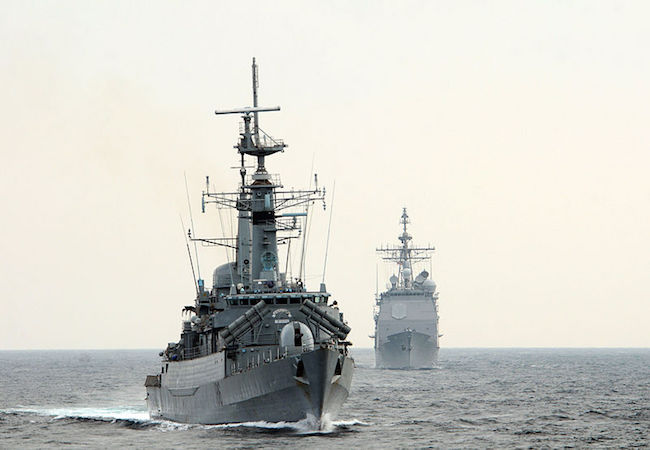 By Sadia Kazmi
Secure and protected sea lanes provide a state with the advantageous position where it can virtually have control over the world, as was rightly proclaimed by Alfred Thayer Mahan "whoever rules the waves, rules the world". Maritime security has increasingly become an important issue globally as well as especially for Pakistan, more than ever before ever since it has embarked upon the CPEC project with China. Successful operationalization and functioning of Gwadar port largely depends on the secure sea routes in the Indian Ocean Region (IOR). IOR itself has 36 littoral states and it is believed that almost 65 percent of world's oil and 35 percent world's gas passes through this region. No wonder these statistics have helped the IOR garnered world attention wherein the US, Russia, China, and India are actively engaged in claiming their economic and military influence.
Security itself is generally defined as freedom from threat or danger. There are a variety of potential threats that the sea lanes are prone to. These include piracy, illegal fishing and exploitation of water resources, smuggling, drug and human trafficking, terrorism, robbery and even the act of contaminating the water or causing marine pollution is part of the many threats. Only once these threats are sufficiently addressed, can a state enjoy leverage over the other countries. While it's a blessing to be a littoral state, Pakistan is also faced with a number of challenges. It is one of the 36 Indian Ocean Region's littoral states with a long coast line to defend. However, it becomes quite challenging in view of limited infrastructure and lack of ample security forces.  Pakistan needs to employ advanced naval capability to secure its port and the adjacent sea lanes for the economic activity to continue smoothly and unhindered. According to the facts, almost 95 percent of Pakistan's trade passes through the Indian Ocean Region. Which means it is essentially a life line for Pakistan which must never be broken or blocked. Gwadar port is also closely located to the Strait of Hormuz, which is a significant choke point in the IOR. This geographical location and close proximity to the Strait of Hormuz, makes Gwadar port not only a significant point in the Indian Ocean but also exposes it to the security threats emerging from Strait of Hormuz. Furthermore, India modernization of its navy is another are of genuine concern for Pakistan. Hence, the maritime security assumes the status of national security concern for Pakistan which eventually has its implications for all the sectors especially for the human security. The Indian naval buildup needs to be immediately countered by Pakistan through the development and modernization of its naval power.
In this regard, recently on 1stJune 2018, Pakistan Ministry of Defence Production signed a contract with China Shipbuilding Trading Co. Ltd (CSTCL) for two Type 054A frigates for the Pakistan Navy. The main objective behind this development is to acquire the much-needed naval modernization which these frigates will bring to the Pakistan Navy, and also the essential and enhanced maritime security capability for Pakistan. Pakistan and China already signed a contract earlier in 2017 for two frigates. As per the information, Pakistan is set to procure four Type 054A frigates from China by the year 2021. These will also be equipped with weapons and subsystems including the Type 366 over the horizon (OTH) radar and Type 382 3D air search radar. Other important specifications include, Vertical Launch System (VLS) for Surface to Air Missile (SAM), dual-quad-cell (2×4) anti-ship missiles (AshM), dual-triple (2×3) anti-submarine warfare (ASW) torpedoes, a 76mm main gun, and Type 1130 close-in-weapon-system (CIWS), and a helicopter hangar among many other more significant functions and features.  Pakistan also hopes to get eight submarines from China by 2028 equipped with Stirling-cycle Air-independent propulsion (AIP) system which will be able to carry three nuclear warheads each.
All these facts evidently show that both China and Pakistan are committed to enhancing the maritime security of Pakistan and making the Gwadar port an unhindered hub of economic activity. Both are not leaving any stone unturned in addressing all the possible challenges.   Not only these practical measures are timely, but will essentially mitigate and counter the Indian naval threat simultaneously enhancing the security of Gwadar port and ensuring the success of the CPEC project. No doubt only a strong and robust naval force can guarantee a state national security interests.