INTERVIEWS
MIDDLE EAST
The Italian deputy and the President of Saudi-Italian Parliamentary Committee shares recent developments about women in the Kingdom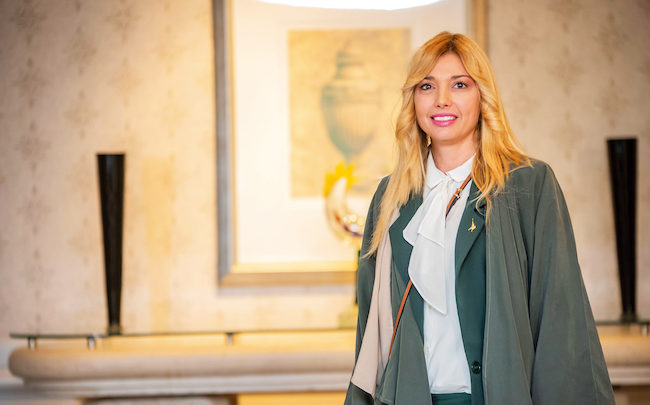 By Alexander Woodman
A.W. Your first visit to the Kingdom of Saudi Arabia was to attend the conference "The Role of Women in Development: Towards a Thriving Society." What is your opinion about the current changes you have witness in the Kingdom? Can you discuss your view of the role of women in the KSA and Italy?
E.M. Although I had already visited some of the Gulf Cooperation Countries, I did not have a great deal of perspective about Saudi Arabia before my arrival at the conference, "The Role of Women in Development: Towards A Vibrant Society."
This incredible conference was organized by the Alwaleed Philanthropies in collaboration with UN Women, the National Observatory for Women, King Saud University (NOW), and the General Statistics Authority of Saudi Arabia (GASTAT). Prior to the conference, I met with the Ambassadors of two countries: the Italian Ambassador to Saudi Arabia, Luca Ferrari and the Saudi Ambassador to Italy Prince Faisal bin Sattam bin Abdulaziz Al Saud. The envoys provided me with an in-depth report about the bilateral relations between the two countries and an update on women in the labor sector.
Despite all of the information I heard on the media outlets about the women in the Kingdom and their role in society, I never believed what was reported. My first-hand view of the changes that were actually made in the Kingdom and the roles of Saudi women that have been recently enacted were impressive.
As a woman, I am honored to be in Saudi Arabia. I look forward to meeting with my colleagues in Italy to update them on all of the progress that women have made. Many are now a driving force of the economy, and I feel that Italy also needs a similar plan of economic innovation where they can be the driving force. The Kingdom will continue to realize that women are an unbeatable power in every country. As you know, in Italy, there is the gender gap that continues to increase. This creates additional problems such as salary differences between men and women, positions of administration along with a host of other issues. Our goal is to close this gap and achieve equality for women in all positions.
A.W. Please discuss the details of your position, your duties in the Italian Parliament and on the Saudi-Italian Parliamentary Committee. In terms of your experience and expertise, what did you bring to share with the officials in Saudi Arabia?
E.M. As the President of the Saudi-Italian Parliamentary Committee, I initiated the order to expand the bilateral relations between the two countries. When I return to Italy with my report, I am going to discuss with my staff that I was delighted to see that the Kingdom is ready to open and staff new companies. This will also clear the way for the expansion of new types of activities in different sectors of the country. This discussion will not only present this information from an industrial point of view but will also show how this is an excellent boost for tourism and education.
Furthermore, it is important to mention that during the meetings at the Shura Council, I realized that Italy needs to become more accessible for small and medium enterprises since 70% of our economy is made up of these types of operations. However, these companies do not have the power to work in the international markets, and our goal is to help them to change their present status. We want them to work within the global markets and be permitted to work within the Kingdom.
These companies are well-developed technologically and mechanically and produce a high-quality product. Additionally, Italy can help support the Kingdom to enter the Italian and European markets. Furthermore, our professionals will share their sharp experience and unique technology. For example, Saudi Arabia is known to have the finest experts in the field of water desalination. Italy needs this technology for its countryside and islands since the country suffers from extreme droughts and damaging climate change. Those environmental issues affect our country regularly especially during the summer months. We need to find a solution, and the expertise of Saudi professionals is another strong reason for collaboration.
On the other hand, as a woman, I will also take from his conference, knowledge, and experience. I will discuss the role of Saudi women with my colleagues in Italy. One exciting find was that I discovered the National Observatory for Women and King Saud University (NOW). I must mention that from a legal and economic point of view, despite the progress, much more must be done.
In Italy, it is crucial that a clear message is communicated that we intend to present and pass specific labor laws for women. These plans will be announced in my speech at the round table. To increase the policies of companies hiring more women, there will be a policy of tax exemption put into place. This will provide companies the opportunity to employ women of different ages. One of the major problems in Italy is that companies prefer to hire men instead of women since hiring mothers cost them more.
A recent study, found that globally, only 36% of employers intended to hire mothers this year, compared to 44% last year and according to the survey, bias against working moms remains strong. Many believe that working moms are less committed to their jobs, while others think they will leave shortly after training to have another child. Some feel that women who return to the workplace have out-of-date skills.
I also plan to offer incentives to create kindergartens within or near companies. This will provide another possibility for mothers to go to work and leave their children nearby or inside the company building. We lack these kinds of services in Italy. Women have to take care of children, and they cannot leave them at home alone.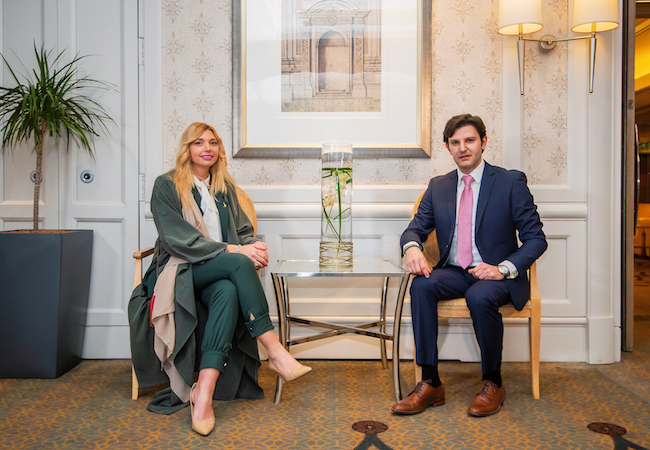 A.W. You mentioned that this visit to the Kingdom of Saudi Arabia was full of discoveries for you. How familiar are you with the Saudi culture? How would the models you suggest for the Italian society work in the Kingdom?
E.M. I am not very familiar with Saudi culture, although I am trying to learn as much as possible. Actually, this is my first visit to Saudi Arabia, which is why I cannot discuss whether what we are planning in Italy is right for the Kingdom. We remain in the exploration stage as far as what changes will be adopted. I am not here to recommend what changes we plan to make in Italy or if any of this would be a welcome addition for the Kingdom. We have many options and must take time to analyze all of the information and decide what would be best for our country. We are grateful for all of the information that we have received from the Kingdom and will determine what will help our people and our country.
A.W. Please, discuss your activities in the Italian Parliament, and what role you play in the Party you represent. Can you tell us a little more about your party and its goals and policies?
E.M. LEGA is one of the two political parties in Italy that was created by the government last year. Our Vice-Minister, Matteo Salvini, the Deputy Prime Minister of Italy is known for his political policies against irregular immigration. Those policies have been in effect in Italy for the past few years. We have specific programs for labor and the secretary working in the Ministry of Labor is a strong leader. Recently, reform was enacted on the country's retirement laws. These changes would allow the age of retirement to be 62, after a contribution of 38 years in employment. We also extended this policy to women; they can retire at the age of 58, with 35 years of gainful employment.

A.W. If you take into consideration that life expectancy has risen because of improvements in many areas of our lives, do you think that the retirement age in your county is quite low?
E.M. The answer to your question depends on the type of work that people do. Women usually do double the work of men, since they also care for their families. I think it is fair to offer the opportunity to women for early retirement so that they can have additional time to do other jobs each day. This entails taking care of their children, elderly parents, grandchildren, and also can complete all of their home responsibilities.
A.W. How would you describe the future development of your political career? Do you feel that one day you will run for the presidency of Italy?
E.M. You never know! Last year, I was elected into this party for the first time, and this was also my first political appointment. I am very passionate about my job and my goals and cannot speculate at this time where my ambition will take me in the future.
A.W. The implementation of the Saudi Vision 2030 will open new horizons for both the people of the local society as well as the overseas' representatives in the Kingdom. Please discuss your thoughts and expectations of Vision 2030. Do you have anything similar to this project in Italy?
E.M. The Italian Ambassador, Luca Ferrari, presented me with the report about Vision 2030. As I read the document, I found it to be interesting and inspiring. In Italy, we have similar types of documents and the Horizon 2020 program. We have learned that when a program is created and distributed among all of the states, it is challenging to apply the recommendations in each state. It is often something that remains on the paper and obtains few results.
I learned that in addition to a vision, one must also have a realistic plan with an accurate timeline, to reach those goals. I do not know if it is the Monarchy system that increases the prospects for Vision 2030, but this country seems to be extremely enthusiastic about the possibilities. This enthusiasm comes from females as well as males; as both genders seem to be in favor of a change. Many who I spoke with feel it is essential to strive towards innovation, and that will lead to a secure future. I cannot make these points about Horizon 2020 in Europe or about any other programs in Italy. This is something that we need and hope to learn from the Kingdom.
A.W. You have shared some of your discoveries in the Kingdom. Can you also elaborate on some of the lessons you have learned? Which of these do you feel would be valuable to share with Italian government?
E.M. I cannot discuss one specific example at this time. However, I do know that in my report to the Italian government, I will make some suggestions that we need to borrow some ideas and positive attitudes from Saudi Arabia. We have two parties in our government, and some may suggest that the Kingdom is an Islamic integralist country in favor of persecution again women. Some state this thought about Saudi Arabia, which is not in the least bit true.
When I return to Italy, I will be able to enlighten Italian people that these stereotypes are not valid! No one in the Kingdom is integralist, and I saw no evidence of women who were persecuted! Women can go to the cinema, and restaurants, and anywhere in the country without any difficulty. I found Saudi women to be easy to speak with and very open to discuss their freedoms in the Kingdom. They are business women and enjoy the same privileges and lifestyle as their male business colleagues.
*This post contains affiliate link(s). Click here for Affiliate Disclosure.