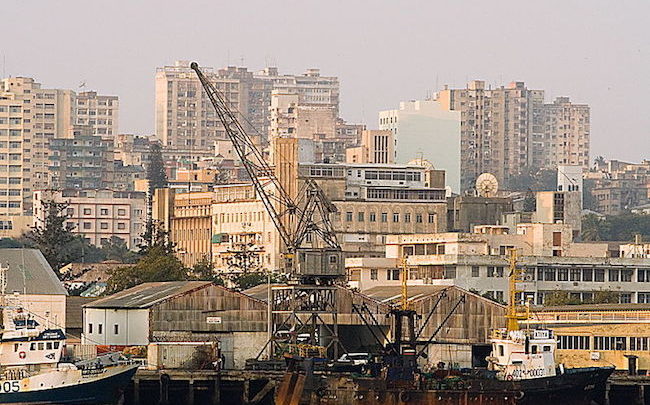 By Tom Sheehy
The Trump Administration will roll out its Prosper Africa initiative at the U.S.-Africa Business Summitheld by the Corporate Council on Africa this week in Maputo, Mozambique. The initiative aims to increase U.S. trade and investment with Africa, challenging China's rapidly expanding commercial activity on the continent. The goal is attainable, but the rule of law must improve throughout Africa if U.S. business is to take hold. Mozambique, which suffers from corruption that undermines its considerable potential, is a good venue to hit this theme.
Although details are still being hammered out, Prosper Africa is designed to step up the U.S. game in Africa, as Commerce Secretary Wilbur Ross has said. For example, the newly created U.S. International Development Finance Corporation will support U.S. businesses with more lending as a way to counter China's expansion in Africa.
But as the U.S. business presence increases in Africa, so too will demands for anti-corruption reforms – demands not always made by Chinese companies. The ultimate beneficiary of cleaner government will be the African people.
With the exception of energy companies, American businesses haven't been engaged much in Africa. Britain, France and Portugal — the colonial powers — had a lock on many markets. African infrastructure is poor, which frustrates commerce. The common perception of Africa as a place of war and poverty hasn't inspired interest. But this indifference is changing as U.S. businesses awaken to the fact that African economies are among the world's fastest growing.
U.S. businesses are also sensing that China is running the table in Africa. Beijing's "Belt and Road" initiative, its so-called "Project of the Century," has targeted Africa with tens of billions of dollars in loans and subsidized commercial deals. Since China got serious about Africa two decades ago, 1 million Chinese nationals have moved to the continent, building manufacturing, agriculture and tourism businesses. It's not just China though. Turkish, Japanese, European and Indian companies are also increasingly active.
Prosper Africa strives to double trade between the U.S. and Africa. Central to this goal is transitioning the Overseas Private Investment Corporation into the U.S International Development Finance Corporation. Doing so will double total lending authority and increase flexibility so Washington can more aggressively aid U.S. businesses in Africa.
Prosper Africa also aims to create an "enabling environment" for U.S. investment in Africa, improving "transparency" — diplomatic words that mean attacking corruption. That's needed. Corruption is common in too many African countries. The U.S. Trade and Development Agency, part of Prosper Africa, has programs that work with foreign trade and procurement officials to create better standards and greater transparency in contracting for infrastructure, an area ripe for corruption.
Competing with China will be tough. Chinese companies have a head start in many African markets. Several offer products well-suited to traditional low-end African markets, while others target emerging high-end demand. This includes Chinese companies pioneering e-commerce in Africa. This is backed by aggressive commercial diplomacy, with top Chinese officials giving Africa their time and attention. The growing Chinese community in many African states is another advantage. Some Chinese companies resort to corruption to get things done, while U.S. companies, facing the Foreign Corrupt Practices Act, don't operate that way.
Consider Mozambique, which Chinese state media has described as a "rough diamond" to be "polished." China has invested some $6 billion in this resource-rich country and has more than 100 companies operating. Illicit Chinese activities include logging Mozambique's depleted old growth forests and overfishing its coastal waters, reportedly with the complicity of government officials.
Mozambique is vulnerable. It's a weak state that lacks the ability to protect its natural resources, hobbled by years of ingrained corruption. At the same time, it has great promise – offshore natural gas deposits worth billions of dollars have been discovered beneath its rich fishing waters. But it has limited ability to exploit and protect these resources. Mozambique bought a fleet of fishing and patrol boats designed to harvest the plentiful tuna schools off its shores and safeguard them from illegal fishing by China and other foreign powers. But the country's "endemic corruption," as Transparency International characterizes it, resulted in a $2 billion debt default that has implicated a former finance minister and several ruling party officials, including the son of a former president. The sad result: the boats and systems, which were key to the country's future, sit mostly all unused.
Africans citizens are increasingly speaking out against corruption and demanding that the deals government officials strike on their behalf are transparent. Their message to China and other foreign investors is that they are welcome because better infrastructure and more jobs are needed, but they must operate on terms that help development. China claims, at least, that its Belt and Road will make good governance a priority.
Prosper Africa is good news for U.S. businesses looking to expand in African markets. It's good news for Africans, too, who deserve more transparency and less corruption. That's a strong note for the Trump administration to hit in Mozambique and throughout the continent.
Tom Sheehy is a former staff director of the Foreign Affairs Committee in the U.S. House of Representatives.