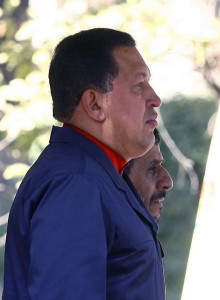 "That hill will open up and a big atomic bomb will come out," said Hugo Chavez while greeting the visiting President of Iran, Mahmud Ahmedinejad, at his Miraflores palace entrance, explicitly ridiculing the United States which has been odds with Iran over its nuclear program for the last several years.
President of Venezuela, Hugo Chavez, has had uneasy relationship with the United States himself, frequently dispelling U.S. foreign policy and government officials. Many of Chavez's speeches at the United Nations included bashing the U.S. government for intrusion in domestic affairs of other countries. Last week, the United States government accused the Venezuelan consul in Miami Livia Acosta Noguera for allegedly taking part in a plot against the United States. Noguera, who has served as the Consul General in Miami since March 2011, was said to have been in contact with Iranians and Cuban officials trying to coordinate cyber attacks on the computer systems of the United States. She was given 72 hours to leave the country. President Chavez immediately condemned the decision of the State Department and called it "another demonstration of the arrogance of ridiculous imperialism".
The developing U.S.-Iranian standoff because of Iran's uranium enrichment have progressed into a possible military conflict in the Persian Gulf, where both Iranian Navy and U.S. Fifth Fleet have been amassing.  Iran is taking rapid measures against U.S. law signed by President Barak Obama on December 29, 2011 to impose sanctions on financial institutions dealing with Iran's Central Bank, the collector of the country's oil revenues. Due to the fact that export of oil is the lifeline of Iranian economy, Ahmedinejad has been seeking alternative ways to keep the economy developing.
During the meeting in Caracas, both leaders pledges support to each other's nations and jointly condemned U.S. for its policies. Leaving Venezuela, President Ahmadinejad is traveling to Nicaragua, Cuba and Ecuador, a Latin American tour which the U.S. called "desperation for friends".
Photo: Courtesy of Flickr