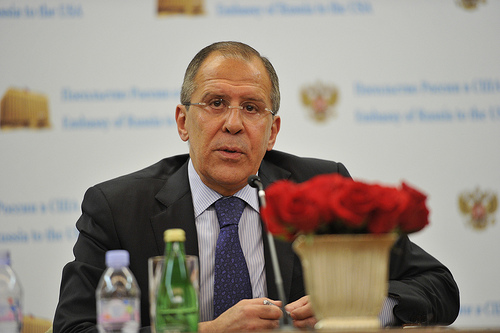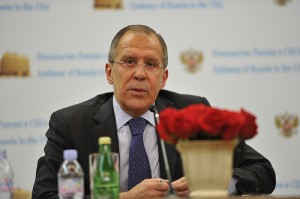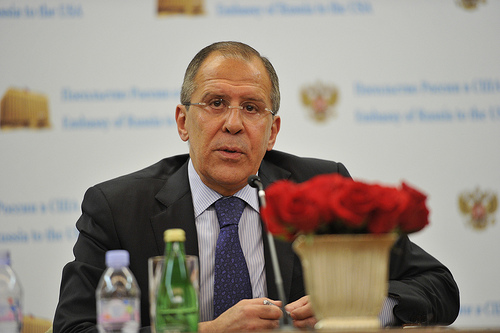 On January 18, in a press conference in Moscow, Russia's Foreign Ministry addressed Russia's stance on multiple issues pertaining to its national security issues.  
First and foremost, comes the issue of developing confrontation of Iran with the United States and Israel, in which Russia has taken a critical stance against possible attack of Iran. Reiterating its earlier warnings on the dangers of military action on Iran, Foreign Minister Lavrov warned of "catastrophic" consequences with a possible refugee crisis which would spill over many countries in the region, coupled with sectarian violence to emerge in an event of war.
It is alleged that the large flow of refugees will take place upon the military strikes on Iran, most possible being outflow to the northern neighbor, Azerbaijan which has a refugee problem of its own since the 1992-1994 war with neighboring Armenia over the Azerbaijani territory of Nagorno-Karabakh, currently under Armenian control. Many contend, sectarian violence could spill over to other countries such as Azerbaijan and accelerate in Iraq and Afghanistan.
Lavrov also emphasized that instead of unilateral sanctions against Iran are not the effective option to stall its nuclear energy program. He offered the Western counterparts to continue the negotiations with the Iranians. The statements from Lavrov came in the midst of Russian opposition to sanctions on Syria, closest ally of Iran. The Israeli Deputy Foreign Minister Danny Ayalon, in turn, stated in his interview to BBC that allowing Iran to build its nuclear arsenal would significantly undermine the regional security and change a balance of power in the Middle East and South Asia.
At the same time, the Russian Foreign Minister urged the US to act on resolution of missile defense issue between the United States and Russia. The U.S. which had been planning installation of missile shield in Eastern Europe, insists the project is a part of defense against possible strikes from Iran, while Russia believes the main objective is to contain Russia and undermine its defense capabilities in its Western frontiers. Ongoing talks on the given issue have continued for three years with no results. Meanwhile, Russia has been addressing the issue with an increase in its defense expenditures through purchase and production of sophisticated arms and enhancing its capabilities in the regions bordering East European countries.
Photo: Courtesy of Flickr