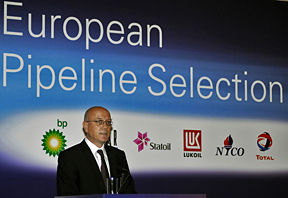 In a long-awaited decision to bring Azeri gas resources to Europe, the Shah Deniz II consortium opted for a pipeline running through Greece and Albania instead of a rival northwestern route, Nabucco West, running from Bulgaria to Austria. The Trans Adriatic Pipeline (TAP) will stretch 870 kilometres from the Greek-Turkish border. Moving west, TAP is designed to extend across the breadth of northern Greece before veering northwest to Albania. From Fier, Albania, plans envision the pipeline crossing under the Adriatic to emerge in southern Italy. TAP will connect with the Trans-Anatolian Pipeline (TANAP), schedule to be completed in 2018, which will initially bring 16 billion cubic metres of Azeri gas through Turkey to the Greek border. By 2026, TANAP could carry up to 31 billion cubic metres of gas per year.
Analysts said the decision gives Greece and Albania an economic and geostrategic boost and will allow energy-rich Azerbaijan to play a greater role in the energy distribution networks in the Balkans. "This is the largest project undertaken in southern Europe … it will bring foreign investment of more than 1.5 billion euros to Greece," Greece Prime Minister Antonis Samaras said from Brussels. Samaras' coalition government was rebuffed by Russian energy giant Gazprom earlier in the month, when the latter declined to bid for DEPA, the state-controlled gas supplier. However, Gazprom's disinterest in the Greek utility, combined with advanced negotiations over the sale the country's gas transmission system operator to Azerbaijan's state-run SOCAR, clinched the TAP deal.
Theodoros Tsakiris, co-ordinator of the Geopolitics of Energy programme at the Athens-based think-tank ELIAMEP, said TAP beat out Nabucco West because the latter was more expensive and less commercially attractive. In Tirana, Majlind Lazimi, the former director of the cabinet at the Albanian Ministry of Economy, Trade and Energy, said that "for Albania, it [TAP] is a strategic project, you can call it a project of the century." In addition to the investment of 1 billion euros in the Albanian portion of the project, TAP will raise the geo-political importance of Albania, he said. "For the first time Albania will be part of a gas route."
Lazimi told SETimes that the project, when completed, would go a long way to diversify the country's energy supplies as well as fostering closer ties between countries involved in the project.Nevertheless, a recurring concern when considering Azeri gas as an alternative to crucial Russian supplies — part of the EU's push for greater energy diversification — is whether quantities from Azerbaijan alone are sufficient.Leo Drollas, the director and chief economist at the London-based Centre for Global Energy Studies, said Azerbaijan's gas reserves "perhaps are not enough to fully justify the project, but there is a hope that the pipeline will attract other resources."
"They wouldn't be talking about building a pipeline if the [gas] reserves were not large enough," Drollas told SETimes.Gas from Iran, Iraq and Turkmenistan could someday flow east to west through TAP, and possibly a revived Nabucco West, via Turkey. "Once a pipeline is built it helps attract other resources; there's an element of faith involved in a pipeline project. For them [Shah Deniz consortium] to want to go ahead there's enough gas to proceed with the pipeline, but it may not yield huge profits," he said.
Source: Southeast European Times
Photo: Courtesy AFP