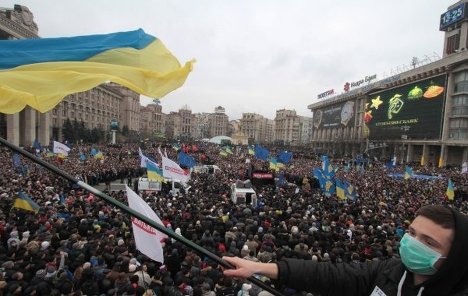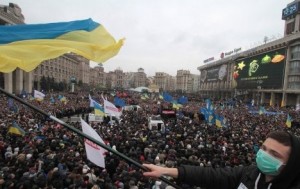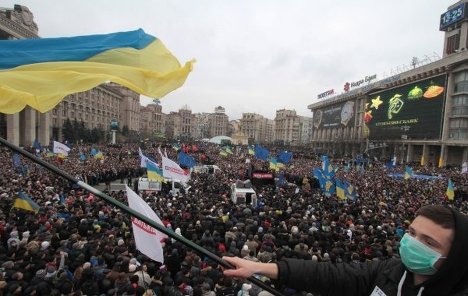 Dozens of police and protesters were injured Sunday in clashes that broke out as more than 100,000 outraged Ukrainians swarmed Kiev in a call for early elections meant to punish authorities for rejecting a historic EU pact.
Defying a protest ban, the energetic crowd chanted "Revolution!" and "Down with the gang" as it drove dozens of helmeted police off Kiev's iconic Independence Square. Protesters also steered a bulldozer within striking distance of metal barricades protecting the nearby presidential adminstration office. AFP reporters saw security forces outside President Viktor Yanukovych's seat of power fire dozens of stun grenades and smoke bombs at masked demonstrators who were pelting police with stones and Molotov cocktails.
Kiev police spokeswoman Olga Bilyk said by telephone that around 100 officers were wounded in the clashes. A mayor's office official said nearly 50 demonstrators had also been treated by doctors for various injuries. The economically struggling nation of 46 million was thrown into its deepest crisis since the 2004 pro-democracy Orange Revolution when Yanukovych snubbed EU leaders at a summit on Friday and opted to keep Ukraine aligned with its former master Russia.
EU leaders primarily blame the decision on the stinging economic punishments Russia had threatened should Ukraine take the fateful step toward the West. Yet the move now threatens to backfire on Yanukovych as his political foes try to build momentum amid existing discontent with state corruption and disappearing jobs. About 50,000 pro-EU supporters also rallied in the Ukrainian-speaking western city of Lviv, while 250 ignored a court ban in Yanukovych's native region of Donetsk.
What the opposition describes as the largest Kiev protest since the 2004 uprising also saw a few dozen members of the nationalist Svoboda party take control of an empty Kiev city hall building. The protesters hung a Ukrainian flag from the one of the building's windows and spray-painted a red sign reading "Revolution Headquarters" near its entrance. "A revolution is starting in Ukraine," Svoboda party chief Oleh Tyagnybok declared.
"We are setting up a tent city on Independence Square… and launching a national strike," he said in dramatic scenes aired live on television stations in both Ukraine and Russia. World boxing champion turned opposition leader Vitali Klitschko — seen as one of the president's most potent rivals in elections set for March 2015 — urged supporters not to give up control of central Kiev overnight.
"We must mobilise everyone across the country and not lose the initiative," he said.
Ukrainian media said Yanukovych — elected in 2010 with strong backing from the Russian-speaking east of the ex-Soviet state — spent most of Sunday huddling with his most senior advisers at a secluded suburban residence. Demonstrators defy court ban
The post-EU summit violence broke out in the early hours of Saturday when hundreds of baton-wielding police drove about 1,000 protesters from Independence Square. That unrest resulted in 30 injuries and prompted the resignation Sunday of the head of Kiev's police. Sunday's rally came in open defiance of a court ban imposed late Saturday on all protests on Independence Square and its surrounding streets until January 7.
US State Department spokeswoman Jen Psaki called on Kiev authorities to respect Ukrainians' right to free expression and proclaimed that "violence and intimidation should have no place in today's Ukraine."
A joint statement issued Sunday by Polish Foreign Minister Radek Sikorski and his Swedish counterpart Carl Bildt — two leaders spearheading the EU's expansion east — also expressed warm support for the rallies.
"We are delighted that so many Ukrainians are braving the cold to protest their president's abrupt decision to withdraw from signing the Association Agreement with the European Union," Sikorski and Bildt said in their statement.
NATO chief Anders Fogh Rasmussen urged "all parties to refrain from violence and the use of force at all cost".
"Violence and force are not the way to resolve political differences in a democratic society," he said in a statement.
Yanukovych for his part said in televised comments aimed directly at the opposition that Ukraine had already chosen its "historic path" by committing itself to closer EU relations.
Yet he also stressed that closer ties with the 28-nation bloc would come only when Ukraine was treated as "an equal partner that is respected and whose wishes are taken into account".
Ukraine's nuanced approach in which it seeks favour from both Russia and the EU was underscored yet again when the government said Yanukovych would soon travel to Russia to sign a new "cooperation roadmap".
Source: AFP
Photo: RIA Novosti