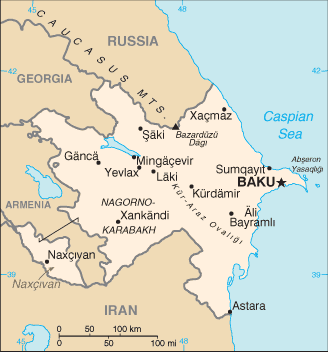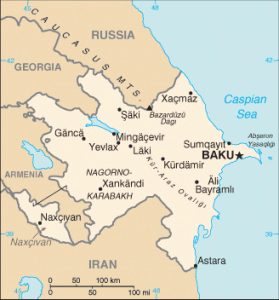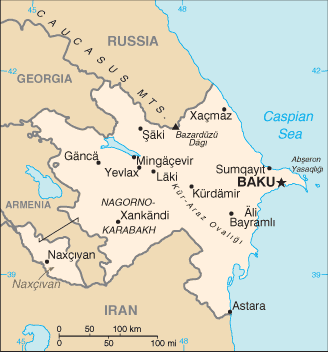 by Jason Katz
Just two decades ago, the Republic of Azerbaijan emerged from the ashes of the Soviet Union as a modern, progressive and secular Muslim-majority nation and has since been a staunch ally of the West.
Azerbaijan has enjoyed close cooperation with the United States and the West, particularly in the realms of energy, security and anti-terrorism. Never has that been more evident than when U.S. and NATO forces were engaged in wars in Iraq and then Afghanistan.
Azerbaijani troops served with honor alongside U.S. troops in Iraq, having the distinction of being the only Muslim troops on our side. Azerbaijan removed them only as part of the overall troop drawdown.
Azerbaijan's troops still serve with U.S. and NATO troops in International Security Assistance Force operations in Afghanistan. It is important to note that Azerbaijan has become a key transit hub for those forces and materials making their way to Afghanistan, as the Russian Federation has systematically intimidated the region's governments in order to choke off other transit hubs.
Enhancing Azerbaijan's strategic importance is its proximity to Iran and the Russian Federation. As one of the few post-Soviet nations to show real independence in the face of Russian resurgency, President Ilham Aliyev has positioned Azerbaijan in a supportive role of the West, while maintaining strong independence. In terms of Iran, a friend sharing a border contributes to Western security in the face of Iran's nuclear threats and copious terrorism exports.
Azerbaijan is a significant player in the energy security of Europe. This became more robust when Azerbaijan's state energy company, SOCAR, inked a deal to build the Trans-Adriatic Pipeline, which will supply Europe with the Caspian's vast natural gas resources through Greece and Albania to Italy.
The Trans-Adriatic Pipeline compliments the growing network of pipelines and transit routes that Azerbaijan has built in partnership with the West. This includes the all-important Baku-Tbilisi-Ceyhan oil pipeline that so vitally contributes to energy diversity of Western markets and, notably, supplies 40 percent of Israel's oil.
The Trans-Adriatic Pipeline will provide roughly 10 percent of Europe's natural gas, alleviating Europe's debilitating dependence on Russian energy and politics.
Much of this would not be possible without the crucial supportive role of the United States, Azerbaijan's most critical ally. Yet, recently, the United States reacted in a markedly rash and uninformed manner to the re-election of Azerbaijani President Ilham Aliyev — a move that has strained the nations' close bilateral relationship to a degree not seen before.
In a statement by State Department spokeswoman Marie Harf, the Obama administration aimed to cast doubt over the legitimacy of the re-election of Aliyev. She stated, "The United States continuously urged the government of Azerbaijan to ensure a free and fair electoral process and to respect the freedoms of assembly, association, and speech. It is with regret that we conclude this election fell short of international standards." This to Aliyev, a leader who always staunchly supports the United States, working faithfully with successive administrations and both sides of the aisle in Congress, while maintaining a stable and reliable ally in an otherwise stormy region.
A double standard seems to exist among the Obama administration elite in that the Iranians, of all people, who went to the polls just a few months before the Azerbaijani people, were treated in a much more supportive manner.
Secretary of State John Kerry said, "We admire the courage of the Iranian people who went to the polls and made their voices heard in a rigidly controlled environment that sought to limit freedom of expression and assembly. We remain concerned about the lack of transparency in the electoral process, and the attempts to censor members of the media, the internet, and text messages. Despite these challenges, however, the Iranian people have clearly expressed their desire for a new and better future."
It seems odd for Kerry to praise the elections of Iran, a prolific sponsor of terrorism, a brutal, oppressive and bloody theocracy and one that is seeking weapons of mass destruction to use them against Israel and others.
For years, Azerbaijan has served as one of America's fiercest allies in the face of great adversity. Azerbaijan is an emerging democracy in a very bad neighborhood. The nation has made great strides toward a free market economy, combating corruption, a free and open society and while its elections were not perfect, they did not deserve this reception.
It would seem prudent to be concerned that the administration's lack of knowledge and perspective on Azerbaijan and its seeming lack of attention and knowledge on other world fronts will have a lasting and detrimental effect on the future of this important friendship.
Jason Katz is the principal of TSG LLC, a consultancy that advises foreign governments, NGOs and corporations in the realms of strategic communications, politics and policy. He is also the former head of public affairs and public relations for the American Jewish Committee, based in Los Angeles.