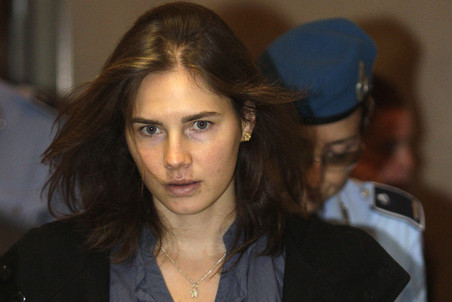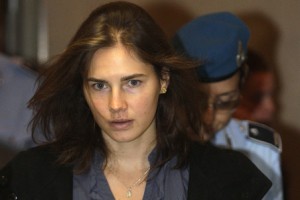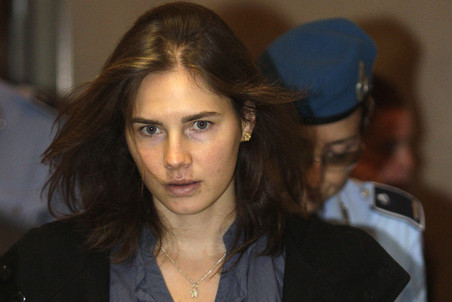 The case of Amanda Know once widely publicized both in Europe and the United States, came back online as the Italian court shocked everyone by upholding the guilty verdict against Washington state native Amanda Knox and her Italian ex-boyfriend Raffaele Sollecito on January 30. The case was tried again based on a new appeal over the murder of British student Meredith Kercher, allegedly killed by the couple in November 2007.
Amanda Knox and Raffaele Sollecito were sentenced to 28 years and 6 months, and to 25 years in jail, respectively.
The Court of Appeals in Florence reached the verdict within 12 hours. It was then read out to a large crowd of journalists.
Knox and Sollecito were acquitted of the murder on a first appeal in 2011 after serving some time in an Italian prison, but they had to face a retrial after the Italian Supreme Court overturned the ruling last year. Twenty-nine-year-old Raffaele Sollecito was present in court during the day, along with his father, but left before the sentence was read out.
"This is not the final verdict for us, and we will definitely appeal," his lawyer Giulia Bongiorno declared.
The news reached Amanda Knox, who has written a book "Waiting to Be Heard: A Memoir" about her ordeal, got the news in her hometown, Seattle, through her lawyer Luciano Ghirga. "I spoke to her immediately after the verdict. She took it badly, and said nothing at all," the lawyer was quoted saying. He confirmed they would also appeal. Amanda Knox, an American student aged 26, had refused to return to Italy for the retrial.
She sent a five-page letter to the Kerchers instead, writing that she "did not kill Meredith" but she was afraid "the vehemence of the prosecution" would impress jurors and make them blind.
Meredith's brother and sister, Lyle and Stephanie, were present when the verdict was read out, but did not have any immediate comment to give.
Now, with both Knox and Sollecito appealing to reverse the sentence, the Supreme Court will have the very last "word" in the long and intricate legal process.
Twenty-one-year-old British student Meredith Kercher was killed in November 2007 in the central Italian city of Perugia. She was found stabbed to death and with her throat slit, in the flat she shared with Knox and two other students.
Knox and Sollecito, couple at the time, were arrested a few days after the crime. They always claimed they were innocent. During the months of the first trial, the media was blamed for bringing negative attitudes upon the couple, portraying Knox and Sollecito as indifferent and careless.
Prosecutors, however, pointed out that DNA traces of both of them were found on the crime scene, giving relevant proof of their involvement in the murder.
According to prosecutors' initial argument, Meredith had been victim of a twisted erotic game involving Knox and Sollecito that went out of control.
A first grade jury agreed with them. Knox and Sollecito were sentenced to 26 and 25 years of jails, respectively, in 2009. A third person, Rudy Guede from Ivory Coast, was convicted of conspiracy to murder in a separate judgment after pleading guilty. He is currently serving a 16-year sentence.
In October 2011, an appeal court overturned the verdict because of "lack of evidence." Both defendants were freed after four years in jail. Knox returned to the United States and Sollecito left Italy for a while.
The case, however, was overturned again in March 2013. The Supreme Court ordered a retrial, accepting the prosecutors' argument that relevant DNA evidences had been disregarded. The case was moved from Perugia to Florence.
Waiting now for the last appeal, Sollecito will be put under travel ban. For Amanda Knox, who declared she would never come back to Italy even if convicted, Italy could ask extradition. The United States, however, is unlikely to give her up because the U.S. judicial system considers it wrong to re-try a defendant twice for the same alleged crime.