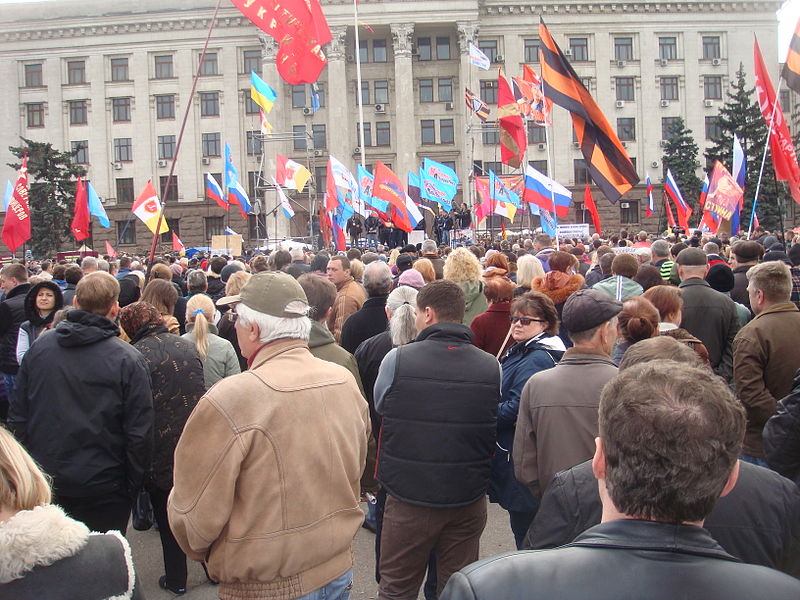 By Jason Patrick
Pro-Russian protesters descended on the police headquarters in Odessa on 4 May demanding the release of a number of those arrested following the deadly 2 May clashes that left over 40 dead. Media reports indicate that police released 67 detainees without attempting to confront the protesters.
The latest onslaught comes on the heals of interim Prime Minister Arseniy Yatsenyuk's visit to the beleaguered city and the firing of the city's police chief, Petr Lutsyuk. Interim President Oleksanr Turchynov declared two days of national mourning following the 2 May incident in Odessa and for the servicemen killed during Kyiv's bid to retake parts of eastern Ukraine from pro-Russian separatists. Witnesses indicated that police forces were quickly overwhelmed and did little to prevent the competing protest movements from escalated to full-fledged violence.
The latest outbreak of violence in Odessa is a foreboding development. The Black Sea port city is over 300 miles west of the Donetsk, where the majority of the separatist activity has taken place. The city lies just east of another pro-Russian enclave, Transdniestria, which broke away from Moldova in 1992 and formally declared independence in 2006. Although no country—including Russia—recognizes the self-proclaimed state, Moscow maintains close ties with its government in Tiraspol and maintains a small contingent of peacekeeping forces on its territory. Kyiv adamantly accuses Moscow of engineering unrest in Odessa with provocateurs staging inside of Transdniestria.
Moscow has condemned the 2 May incident, blaming the Western-backed government in Kyiv of incompetence and irresponsibility. Following the events in Odessa, the Kremlin issued an ominous warning that it is weighing its response options. Moscow has repeatedly warned—and demonstrated—that it is willing to use force to protect Russian-speaking citizens in its former territories.
President Putin may not be on the verge of committing his 40,000-strong forces to Ukraine just yet, however. Kyiv's ongoing security operations have resulted in some limited successes such as the recapture of the airfield and communications tower in Kramatorsk, as well as the dismantling of several checkpoints around Slovyansk. However, with each successful operation, pro-Russian militants respond with additional attacks in the cities of Donetsk, Horlivka, and Mariupol.
With many local police personnel loathe to confront separatists and unsupportive of the same Kyiv leadership that many had been sent to combat prior to the ousting of former President Yanukovych, the separatist movement way well succeed in undermining the Ukrainian state with no conventional military assistance from Moscow.
If police are unable or unwilling to prevent violence in cities like Odessa and Kharkiv, Kyiv may be compelled to divert its already limited military forces away from its focus area in Donetsk Province. Such diversions will greatly erode Kyiv's ability to take and hold ground in its industrial heartland and will further loosen its grip on a decisively divided country.