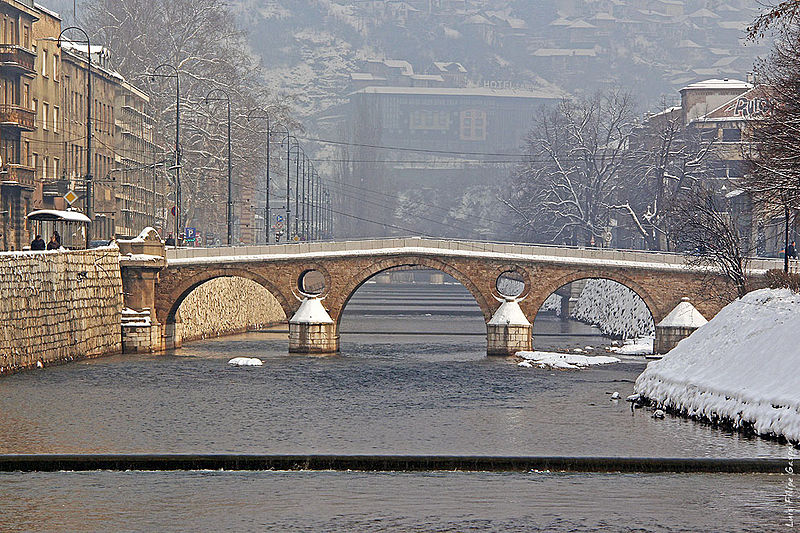 By Peter Tase
On June 6, 2014, Sabahudin Hadžialić, a distinguished European writer was recognized with the Lebanese Naji Naaman's Creativity Prize for poetry. This year's competition had 1681 authors from fifty eight countries, who have published works in twenty five languages and dialects: Arabic (literary and several spoken dialects), Albanian, Armenian, Bété, Bosnian, Chinese, Croatian, Czech, Dutch, English, Finnish, French, German, Icelandic, Italian, Macedonian, Romanian, Serbian (in Latin and Cyrillic characters), Spanish, Swedish and Ukrainian.  This year is celebrated the twelfth anniversary of Naji Naaman's literary Prize (2014) which has recognized 67 new recipients, among which also a Distinguish self-sustained writer Sabahudin Hadžialić from Bosnia and Herzegovina. He received the 2014 Creativity Prize for poetry.
Next August, laureates will find their chosen written materials printed (completely or partially) in the yearbook published on their honor, within a free of charge literary series published by Naji Naaman's Foundation for Complementary Culture (FGC), and shall receive an appropriate testimony giving them the honorary title of being a member of Maison Naaman pour la Culture.
This Prize was established in 2002, Naji Naaman's Literary Prizes are awarded to authors of the most contemporary literary works in content and style, aiming to revive and develop human values.
About the awarded author:
Sabahudin Hadžialić was born 23.9.1960.g. in Mostar, Bosnia and Herzegovina, Europe.  Today he is a member of the Bosnia and Herzegovina Association of Writers (Sarajevo, BiH), Croatian Writers Association Herzeg Bosnia (Mostar, BiH), Association of Writers in Serbia (Belgrade, Serbia), Association of Writers of Montenegro (Podgorica, Montenegro) and Journalists Association of Bosnia and Herzegovina, Association of Independent Intellectuals "Circle 99", Sarajevo and Ambassador of POETAS del MUNDO in Bosnia and Herzegovina.  He is Freelance Editor in chief of the electronic and print magazine "DIOGEN" pro culture:http://www.diogenpro.com and Editor in chief of E–magazine MaxMinus: http://www.maxminus.com from Sarajevo, Bosnia and Herzegovina.
He has the status of a distinguished self-sustained artist in the Canton of Sarajevo since 1.1.2009; by a Decision of the Minister of Culture and Sports of the Canton. He writes poetry and prose as well as edited and reviewing books from other authors. Currently works as a part-time professor of media and communications.  Mr. Hadžialić has a degree of Masters of Science in Media and Communications from the International University Travnik (BiH), Faculty of Media and Communications.
He was freelance editor in the publishing house of Dhira, Küsnacht, Switzerland (2009-2012).  He has published poems, articles, essays (PR), op-eds, aphorisms, plays and short stories in almost all major newspapers & magazines in Bosnia-Herzegovina, Serbia, Croatia, Slovenia, Macedonia, U.S.A. His poems, short stories and aphorisms have been published in various journals published in England, Ireland, Spain, Kosovo, Italy, USA and Albania.  His poetry and prose has been translated in the following languages: English, French, German, Spanish, Turkish, Italian, Arabian, Polish, Estonian, Albanian and Romanian.
He was the co-owner of the first private newspaper in SR BiH "POTEZ", Bugojno, Bosnia and Herzegovina – 1990.  So far he has published fourteen books of poetry and prose.
Has published four books internationally: Book of poetry in France 1998 (French language),  Book of aphorisms in Italy (Italian language), Book of poetry "Beggars of mind" (published in BiH back in 2003.) in Switzerland (German language) and "Selected poems" book of poetry (in English, German, Italian, Albanian, Spanish and French language). His art work has been included in anthologies of poetry in France, Canada and Bosnia and Herzegovina, and in the Anthology of satire of Bosnia and Herzegovina and of Balkans. He has won several awards among which are the best: "May pen" for the best young poet of former Yugoslavia in 1987 (Svetozarevo). He lives in Sarajevo, Bosnia and Herzegovina.
Works Published and in Progress:
2011. – Co-editor of the "Poets for World peace" Vol. 3 (Anthology of poems – poets from 25 countries from all around the World together with Dr. Ram Sharma from India)
2011. – Editor of the FIRST Anthology of Former Yugoslavia aphorisms with 73 satiric/aphoristic from Former Yugoslavian republics.
2015: Within the preparation are Second part of the novel…First part (The Box of life) has been published in April 2013, by Publisher MostArt, Belgrade, Serbia:  The novel (trilogy "CROSSROADS OF THE WORLDS") Destiny of hope.
2015:  In progress of preparing a Book of Poetry in Spanish and English in the USA and Paraguay (edited by Peter Tase (USA), a freelance journalist and a research scholar)
To find more about Mr. Sabahudin Hadžialić and the Naji Naaman's Foundation for Complementary Culture (FGC) in Lebanon please visit the following two websites: http://sabihadzi.weebly.com ; http://www.najinaaman.org/.