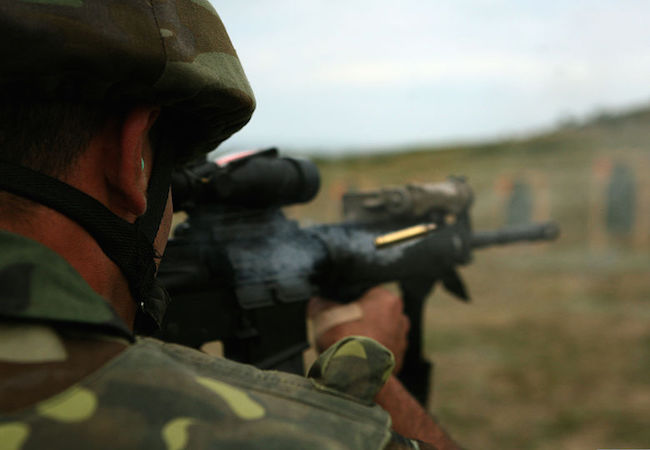 The Ministry of Defense of Armenia issued a statement on Monday reporting a clash between Armenian and Azerbaijani forces on the Armenia-Azerbaijan border on Sunday night.
According to the spokesperson of the ministry Artsrun Hovhannisyan, the Azerbaijani forces attempted an incursion into the territory of Armenia and allegedly killed an 80-year-old local shepherd Seryozha Sargsyan in the process. The official said that the enemy was fought back and retreated losing one of its troops. He noted that the Armenian side allowed the Azerbaijani forces to recover the body of the killed soldier.
Azerbaijani side denied Yerevan's reports immediately, saying the statement was false. Vagif Dargahli, Colonel, Spokesman for the Azerbaijani Defense Ministry stated that although the skirmish was registered, it was the Armenian side that attacked the positions of Azerbaijani army but the assault was repelled with no casualties to the Azeris. As far as the killed Armenian civilian is concerned, the spokesperson went on, it is the Armenians themselves who killed the shepherd and laid the blame on the Azerbaijani side.
Armenia and Azerbaijan have been tied in a decades-long conflict over Azerbaijan's region of Nagorno Karabakh. The parties fought a six-year war in 1988-1994 resulting in Armenian forces' occupation of one fifth of Azerbaijan, including the region of Nagorno Karabakh and seven adjacent districts. The occupation was condemned by four UN Security Council resolutions in 1993 demanding withdrawal of Armenian forces from Azerbaijani territories.
Although the skirmishes along the Line of Contact between Armenian and Azerbaijani forces in Karabakh are frequent, the combat operations rarely spill over to the international border between Armenia and Azerbaijan, or, at least, those shootouts are not reported. Assaults across the Armenia-Azerbaijan border signify new phase of the standoff between the enemies, widening the front for highly militarized armies of South Caucasus.
Armenia heavily relies on Russia's help which retains a military base in Gyumri, an Armenian town in close proximity of capital Yerevan and Armenia's border with Turkey, a powerful member of NATO. Armenia is a member of Collective Security Treaty Organization (CSTO) led by Moscow – which provides Armenia conventional weapons at subsidized prices – and has recently joined the Kremlin-sponsored Eurasian Economic Union. Azerbaijan, in turn, relies on its oil and gas exports to beef up its military potential and is buying weaponry from a number of states, including Israel, Pakistan, Russia, Ukraine and Turkey.
Peace efforts led by the OSCE Minsk Group have not produced any tangible results. Resumption of hostilities between Armenia and Azerbaijan remains a high risk possibility.