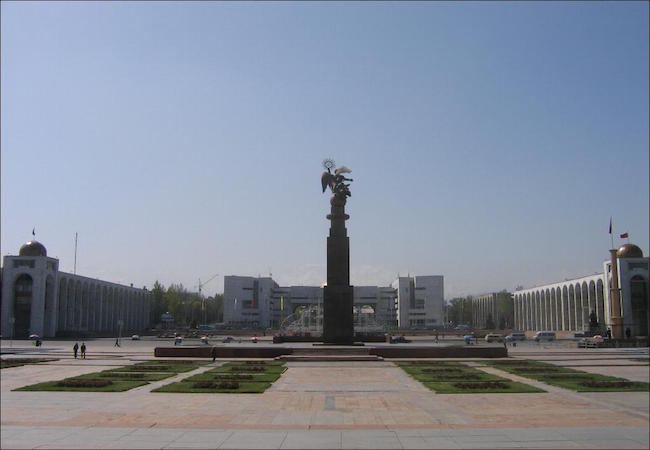 By Erkin Kamalov
Preventing militants from brainwashing the country's youth into fighting in the Middle East is high on Kyrgyzstan's list of priorities, and officials have not shied away from reporting their successes.
"In 2014, the activities of three underground groups of [an extremist organisation] came to light in southern Kyrgyzstan," said Deputy Prime Minister Abdyrakhman Mamataliyev February 19 at a session of the Co-ordination Council of Law Enforcement Agencies of Osh Province. "The authorities … opened 12 criminal cases and arrested 15 suspects."
During the past year, Kyrgyz security forces have unmasked underground radical organisations, broken up transport routes for militant recruits trying to join the wars in the Middle East, and arrested suspected terrorists. But they are not complacent.
Of an estimated 220 Kyrgyz fighting in Iraq, Afghanistan and Syria, 130 come from Osh city and Osh Province, police say. As a result, they remain focused on southern Kyrgyzstan .
"In spite of our progress in solving such crimes, our work must continue on preventing crimes that could … destabilise our country," Mamataliyev said.
"In 2014, we detained 40 citizens affiliated with terrorist groups," he added. "The majority of them had already undergone combat training in Syria."
It is essential to step up preventive and outreach work with the public, he said.
Detaining 'jihadist' recruiters
The case of Dilyorbek Makhkamov of Nariman village, Kara-Suu District, Osh Province, is an example of what happens to those who attempt to recruit militants.
Last July, he came home from Syria, where he had been since April 2013, and told anybody who would listen about how Muslims in Syria supposedly were fighting "infidels", according to the Osh Province police press office.
Makhkamov recruited from among uneducated youth and even sent his own nephew to join the "jihad" in Syria in November 2013, according to the Osh Province police.
He encouraged two other young men to do the same, but their parents found out and stopped them. Police arrested Makhkamov last September.
He now faces charges of mercenary activities and incitement of inter-faith hatred, and his case is now in court.
Police are investigating his suspected accomplices with ties to international terrorist organisations and efforts to recruit Kyrgyz youth and to ship them to war zones.
Recruiters benefit from ignorance of Islam (a legacy of the enforced atheism of the Soviet era), according to Jakyp Zulpuyev, chief of the Osh Province police's 10th Department (domestic security).
"It's easy for the [extremists] to brainwash them by distorting … the Koran," he said.
Co-ordination between government, citizens
Kyrgyz citizens are joining government efforts to thwart militant activities.
Authorities are holding outreach meetings to prevent extremism and to strengthen co-operation with the public, Zulpuyev said.
"Ordinary citizens are becoming more and more willing to co-operate with us, because they realise that the problem of radicalism, extremism and terrorism can affect each of them," he told Central Asia Online. "It's becoming harder to recruit for 'jihad' in Syria."
Outreach events occur in mosques, apartment blocks, women's councils and local youth groups, Zulpuyev said.
Public trust in law enforcement is growing, said Mirlan Toktomushev, imam of the Osh Sheyit-Dobo Mosque.
"Thanks to the continuing meetings, congregations have come to realise that the police and clergy want to protect them against reckless deeds, crimes and radical groups," he said. "The public now is willing to tell the police about strangers who are recruiting youths."
Outreach events at high schools also are helping defeat militant recruiting, Zulpuyev said, adding that teachers and pupils discuss religious literacy.
"Such [informational] activities are taking place among high-school students in Osh city and in Aravan, Kara-Suu and Uzgen districts, where the 'jihadists' are the most active," Zulpuyev said. "The children present their own essays, poems and drawings. [These activities] lead to the children forming anti-extremism opinions and arouse patriotic spirit in them."
Lectures with themes like "We oppose extremism" and "Problems of the Syrian conflict" help prevent impressionable high-school pupils from rushing off to a foreign war, he added.