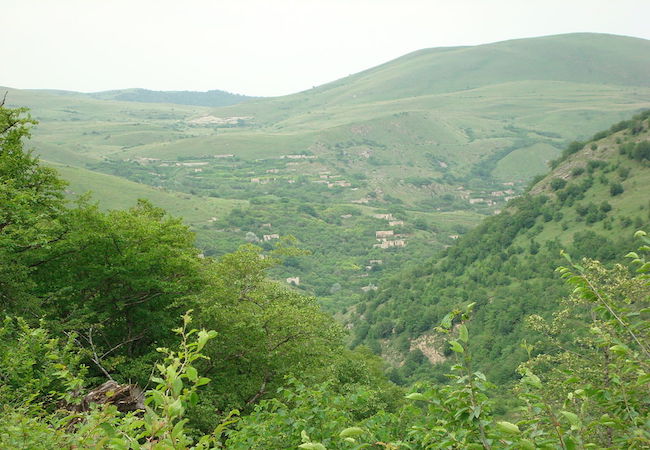 More casualties were reported on March 19 after Armenian and Azerbaijani troops clashed on the line of contact in Nagorno Karabakh separating the armed forces of two warring nations.
The Armenian side acknowledged three of its soldiers – Hakob Khachatryan (born in 1996), Eduard Hayrapetyan (born in 1995) and Arshak Harutyunyan (born in 1995) – were killed in the standoff while the Azerbaijani side gave a higher number of Armenian losses. According to the Ministry of Defense of Azerbaijan, as many as 20 Armenian soldiers were killed during the skirmish.
Parties to the conflict exchanged accusations blaming one another for violating the ceasefire which has been in effect since May 1994. The press service of the separatist Nagorno Karabakh region stated that in the early morning hours on March 19, a group of Azerbaijani commandos attacked Armenian military positions in the vicinity of Gulistan village of Goranboy district of Azerbaijan. The statement said that the attacking group was "totally destroyed on the approaches of their own positions", although no confirmation was released on either the precise number of the killed or their names.
The Azerbaijani Defense Ministry, in turn, claims that it were the Armenians who stormed the Azerbaijani positions across the line of contact and the attack was successfully repelled leaving up to 20 Armenian soldiers dead. The Minister of Defense Zakir Hasanov reportedly stated that the Armenian provocations along the frontline are not rare and the only way for the wellbeing of Armenian soldiers is to withdraw from the occupied territories of Azerbaijan.
Nagorno Karabakh region of Azerbaijan has been the hotspot since 1988. Two Soviet republic of Armenia and Azerbaijan went into full fledged war once USSR collapsed in December 1991. The Russian-brokered ceasefire was signed on May 12, 1994 after a six-year old war left 30,000 people dead with one million refugees and IDPs displaced from their homes. Separatists authorities in Nagorno Karabakh, backed by Republic of Armenia, claim they have self-determined according to the international law. Azerbaijan maintains the Republic of Armenia had illegally annexed the region with 7 adjacent districts by force. The evidence from HRW suggests Russian armed forces stationed in Armenia had played a role in conquering Azerbaijani districts in 1993. Four UN Security Council resolutions – 822 853, 874, 844 – were passed condemning occupation of Azerbaijani territories and demanding unconditional withdrawal of Armenian troops.
Peace negotiations have been underway since 1992 under the auspices of OSCE Minsk Group co-chaired by the United States, Russia and France. No viable solution had so far been found. In 2007, Armenia and Azerbaijan accepted the Madrid Principles promising to work along the proposed format; however, the sides continue to disagree on the specific items such as the status of Nagorno Karabakh and the timing of withdrawing from the seven occupied districts surrounding Nagorno Karabakh, which are currently under control of Armenian armed forces.