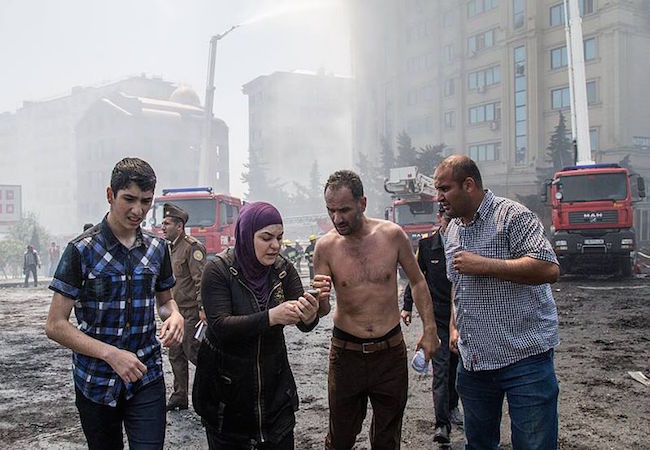 A highrise residential building in Baku burned completely on a Tuesday afternoon as the rescue personnel battled the fire for hours until the last tenants left the building.
A thick dark cloud puffing out of the burning building was seen from many other highrise residential buildings that have mushroomed in the capital of Azerbaijan over the last decade. Energy-rich Azerbaijan has been investing billions of dollars in its infrastructure since the BTC oil pipeline started operating in 2006. Although the leadership of the country initiated some infrastructure projects in other districts of the country, the main focus has always been on Baku. Due to continuous attempts to boost its international image, official Baku had brought several international events to Azerbaijan over the past five years.
Baku has hosted a number of international sports events. It was the location of 2012 Eurovision contest and FIFA U-17 Women's World Cup. It's getting ready to inaugurate the first ever European Games in order to increase its chances for Olympic Games. Baku will also be the host of Formula-1 in 2017 and two games of UEFA Euro-2020. Feeling obliged to accept tourists properly, dozens of hotels and sports venues are being built. In addition to new buildings, the city administration decided to beautify the city by covering the outdated facades with new modern building material.
Normally, construction companies use polyurethane-based planks for this purpose; however, according to media reports, styrofoam had been used on buildings in Baku, including one that burned on Tuesday. Being a cheap and light material, styrofoam burns instantly. It is yet unknown if the use of the material had been authorized on residential buildings or its application had been ignored on purpose. This is the second residential building to burn in the last two months. The first one burned on April 10. The cause for the instant blaze was the same: the beautified facade. Fortunately, everyone got out with a few sustaining light injuries. The tenants of the building that burned on May 19 were not so lucky.
Sixteen people have reportedly died, among them five toddlers. One man, who sought to escape the fire, jumped from one of the top stories dying instantly as he hit the ground. One of the kids died in the hospital from all the smoke she inhaled in the burning apartment. The 107-apartment building housed 408 people. All survivors escaped leaving all their belongings in the inferno. The city officials promised to provide immediate housing to all of the families. The authorities also launched criminal investigation into the matter. The head of the company which supplied the low quality siding materials has already been arrested. President of Azerbaijan Ilham Aliyev is said to have taken personal control over the investigation.