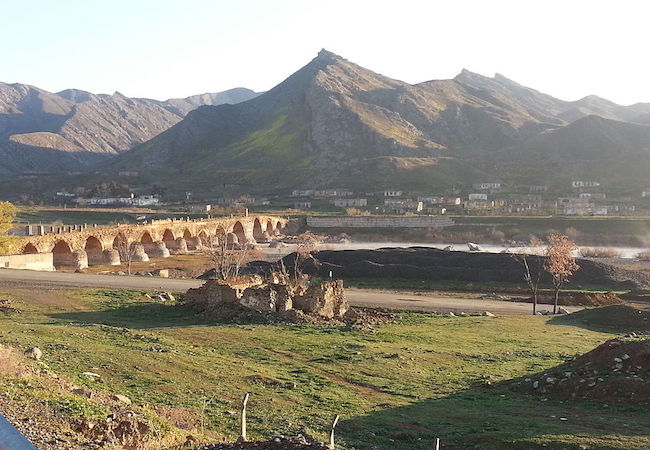 By Yusif Babanly
"The water was extremely cold. It felt like being sliced alive with a butcher's knife. Yet, in comparison to being sliced with a real knife, I preferred the freezing water." These were the words of Gabil Mammadov, one of thousands of IDPs from Zangelan district who had eventually settled in Sumgayit and hundreds who had to escape from advancing Armenian troops by swimming across Araz in the fall of 1993. Zangelan, which was the last Azerbaijani district in Karabakh fell to the enemy in October 1993.
By end of July 1993, vast territories beyond the already occupied former Nagorno-Karabakh AO, including districts of Lachin, Kelbajar, Agdam, were captured and their Azerbaijani population forced out. The mass exodus from these regions in panic and desperation was largely due to the bitter outcome of occupation of Khojaly in late February 1992, when 613 Azerbaijani civilians were indiscriminately massacred in the town and its vicinity, thus sending shock waves across the Azerbaijani community of Karabakh who had long forgotten the brutalities of Armenian bands terrorizing Azerbaijani villages of Karabakh and Zangezur in 1918-1921.
To put it in Armenian President, Serzh Sargsyan's words, "Before Khojali, the Azerbaijanis thought that the Armenians could not raise their hand against the civilian population. We were able to break that [stereotype]" (Thomas de Waal, Black Garden: Armenia and Azerbaijan through Peace and War. New York and London, New York University Press, 2003, p. 172.)
Despite a successful Azerbaijani offensive to liberate Nagorno-Karabakh in the summer of 1992, the situation changed dramatically by the beginning of 1993. Political turmoil, separatist movements in the north and south of Azerbaijan and the imminent danger of a civil war caused defeats on the Karabakh front. Having pushed Azerbaijani forces outside of former NKAO, Armenian forces with Russian air support and artillery moved on to Kelbajar in April and Agdam in July 1993.
In his recent interview to YurdTV, former Foreign Policy Advisor, Vafa Guluzade reiterated that the Russian troops played an important role in Armenian offensives. "It was the Russians that rolled into Agdam first," he said "immediately claiming Armenians were coming and urging Azeris to leave".
Ignoring the UN Security Council Resolutions 822 and 853, which condemned and called Armenia to withdraw its forces from Kelbajar and Agdam districts, Armenian troops attacked and occupied the southern regions of Fizuli and Jabrayil on August 23 and Qubadli on August 31, 1993, a stretch of combined 3,238 sq km, instantly producing 157 thousand internally displaced persons in a matter of two weeks.
Fizuli which fell to the enemy first was occupied amid the calls to Armenia from the United Nations Security Council to stop attacks on Fizuli region of Azerbaijan on August 19, reiterating its stance on Armenian occupation voiced by earlier UN SC Resolutions. (UN Demands Armenians Give Up Conquests. New York Times, August 19, 1993).
Occupation of these 3 districts produced the next largest refugee crisis after exodus of Lachin, Kelbajar and Agdam. Though the earlier mass expulsions were relatively safer due to open passages to the south, north and the east, the Armenian troops left no safe passages for fleeing IDPs from Jabrayil and Qubadli. According to the Human Rights Watch, the only narrow stretch of land along Araz river was continuously shelled by the Armenian artillery (Azerbaijan: Seven years of conflict in Nagorno-Karabakh, December 1994). This major Armenian offensive on Azerbaijani regions aided by heavy artillery and existence of an unpromising refugee corridor somewhat reminded of occupation of Khojaly and the "free corridor" which brought the fleeing Khojaly residents to a machine gun fire in the hills of Nakhchivanli village. What happened to their bodies afterwards was yet another fresh reminder to Fizuli, Jabrayil and Qubadli residents of what would or could happen to them should they have all taken the route by land breaking through the Armenian fire. Unwilling to take a risk to be killed by bullets and have their bodies mutilated, many took the risk of being drowned in a strong current instead. Able or unable, swimming across Araz into the Iranian territory was the only viable option for the elderly, women and children. Undoubtedly, hundreds went down the river, eventually being found down the stream or remaining officially missing to this day.
Although a ceasefire mediated by the Russian government was agreed upon on August 31, it was broken in the first half of October with offensive of Armenian troops on the last standing district within Karabakh, Zangelan. As a sign of protest, on October 14, 1993 UN Security Council passed its third Resolution 874, condemning earlier Armenian conquests, killing and forcible eviction of thousands of Azerbaijani civilians from their homes.
As earlier, the international community was ignored and Zangelan would soon fall on October 29. The last Azerbaijani of Karabakh was deported. UN SC Resolution 884 demanding withdrawal of Armenian troops from Zangelan would soon follow on November 12.
All Azerbaijani homes in occupied regions were immediately looted and most set on fire by Armenians. International humanitarian aide workers have noticed signs of intentional arson. It is likely that Armenians did not intend to settle the occupied regions but wanted to destroy and prevent them from being resettled by Azerbaijanis, if they were to be recaptured in the future.
Apart from mass deportations from southern regions bordering Iran, Armenians also aimed to control Horadiz rail junction in southern Fizuli district. Horadiz rail junction was of utmost importance since it was the station on supply route to an isolated Nakhchivan exclave of Azerbaijan, where supplies from Baku would be loaded onto rail cars and transported through Iranian territory onto Nakhchivan. It was occupied by Armenians in October 1993.
On December 22, 1993 Azerbaijan launched a major offensive all around the frontline, liberating the all important Horadiz railway junction, several strategic heights around Agdam and Agdere, 21 villages in Fizuli district and Omar Pass in the Murov range in Kelbajar district. Major counteroffensive of the Armenian army, reportedly aided by the Russian military in the first two months resulted in the loss of previously liberated villages and heights.
Azerbaijani troops were able to defend Horadiz. According to HRW reports based on the Armenian Mirror-Spectator, the Russians allegedly tried to pursue the Armenian forces to occupy Yevlakh, a town north of Agdam to cut of Baku from western Azerbaijan. Vladimir Kazimirov, who ended up brokering Russian-mediated ceasefire in May of 1994, was also cited delivering a warning to Azerbaijani leadership that if Azerbaijan "did not cooperate they risked losing more territory". (Thomas de Waal, Black Garden: Armenia and Azerbaijan through Peace and War. New York and London, New York University Press, 2003, p. 172.) Undoubtedly, Russian mercenaries have participated in the fighting on both sides, but the notion that Russian authorities have unconditionally supported Armenia during and after the war by supplying it with 1 billion dollar worth of ammunition raises doubts in its genuine role in the negotiation process.
Eighteen years under occupation, Fizuli, Jabrayil and Qubadli have become a part of broader sorrow. All these years IDPs, some of which settled in newly built settlements just 15 km away from the occupied part of Fizuli, have longed for their land. Even atrocities of a brutal war have not broken their will. Maybe it's the massive build up of Azerbaijani Armed Forces with an annual budget for 2011 of 4.46 billion dollars. Maybe, the connection to the homeland is too strong. Either way the return of Azerbaijani IDPs to their homes in inevitable.
Yusif Babanly is the co-founder of US Azeris Network (USAN) and a member of the board of directors of AAC