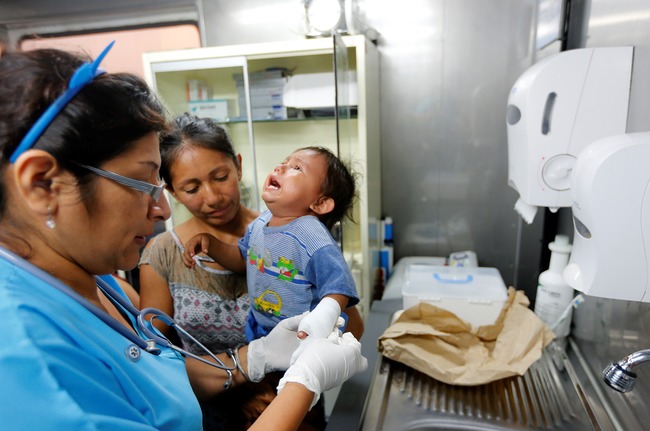 By Pedro Hurtado Cánepa
Peru's Navy is playing an important role in helping those who live in extreme poverty in the Amazon region, an area of 782,800 km² that covers 60 percent of the country, has dense vegetation, a variety of climates, and is difficult to access.
Since 2013, the Navy has provided support to Amazon populations who don't have access to basic services because of their communities' remote locations.
Using vessels called Traveling Social Action Platforms (PIAS, for its Spanish acronym), Peruvian authorities are providing comprehensive health, dental, and social services to children and adults, including the elderly.
Since the program began, the Navy has held five outreach events in the basins of the Napo and Putumayo Rivers, with each tour lasting about 45 days, during which the PIAS have provided a total of 102,880 medical treatments to residents of both basins. Naval personnel have also administered a wide array of services, including identification registrations, access to scholarships, and educational workshops on topics such as drug use and sex education.
"An important achievement is that, as a result of the outreach efforts, some 5,000 persons now possess a national identification document, which allows them to access different social support programs offered by the government," Vice Admiral Javier Gaviola Tejada, General Operational Commander for the Amazon Region and the Fifth Naval Zone, said.
Helping the elderly and the needy
The PIAS also give many elderly and needy people opportunities to withdraw money by offering ATMs for senior citizens in the Pensión 65 program, which provides a tax-free pension of about $78 every two months to adults older than 65 who live in extreme poverty.
"Receiving a pension from the Pensión 65 program allows me to buy food and medicine for my illness. It is a big help for me," said Arturo Pérez, 77, who suffers from Parkinson's disease and lives in Mangua, in the Loreto region which is only accessible by boat.
The ATMs installed aboard the PIAS can also facilitate the payment of financial incentives under a national program for direct support to the poorest citizens, called JUNTOS, Spanish for "together". It provides the country's neediest families incentives of $62.50 every two months in exchange for a mother's commitment to bring her minor children to health and educational centers in areas where they live.
Extreme poverty refers to those whose personal expenditures don't exceed $50.30 per month, which is the cost of the minimal food basket in Peru, according to the National Statistics and Information Technology Institute (INEI).
Goal of 12 PIAS
Currently, the Navy has three PIAS:
:: Rio Napo, constructed in 2013, and the first vessel in its class;
:: Rio Morona and Rio Putumayo I, which entered into service in June.
Workers are constructing another PIAS – Rio Putumayo II – at the Naval Industrial Services shipyard in Iquitos, and it will be christened in September.
Full construction, which includes high-quality finishing, the installation of equipment, and formal testing, both in port and at sea as required by the Peruvian Navy for suitable functioning, will be complete in ten months, Lieutenant José Alberto Velásquez Salcedo, commanding officer of the PIAS Rio Morona, said.
"The goal is to have 12 vessels on the seven Amazon basins in the next four or five years, distributed along the borders with Ecuador (Napo and Morona Rivers), Colombia (Putumayo River), and Brazil (Yaraví River), as well as in the country's interior (Ucayali, Marañón, and Tigre Rivers), plus two platforms that will be held in reserve," Lt. Velásquez added.
Each of the three PIAS costs about $5.6 million, which includes the infrastructure, the installation of systems, and the acquisition of the equipment necessary for each vessel to operate in accordance with safe navigation standards.
The PIAS are organized and directed by the commanding officer and a second in command, while the crew consists of highly trained Navy personnel specializing in navigation, communications, electricity, electronics, propulsion, maintenance, administration, services, and health.
Each platform consists of 15 compartments on the first level, where Naval personnel provide health services such as triage, topical treatments, dentistry, telemedicine, ophthalmology, minor surgery, and immunizations, as well as social services. The first level also contains observation theaters and pharmacies.
Optimism and joy
Bringing medical and dental treatment and social services to Amazon populations is generating high levels of goodwill and trust from residents in the region, Lt. Velásquez said.
"A sense of optimism and joy has awoken in the population receiving benefits," he added. "We see it at each campaign when the units arrive at the communities, and they come efficiently, jointly, orderly, and free of charge."