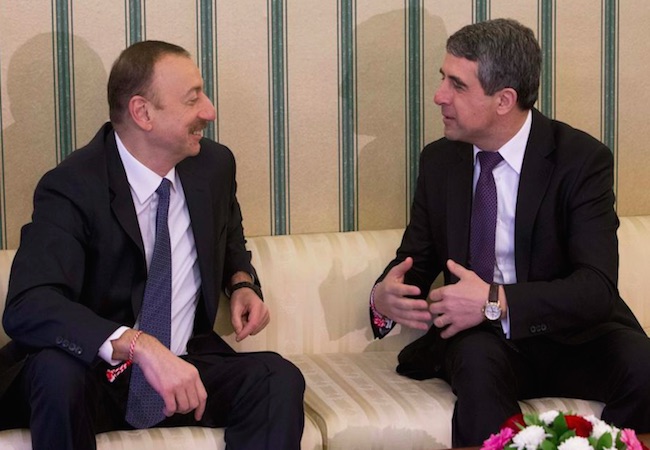 By Clive Leviev-Sawyer of The Sofia Globe
Bulgaria and Azerbaijan will seek to boost strategic co-operation in a number of fields, under a memorandum signed on March 4 in Sofia by Bulgarian President Rossen Plevneliev and his Azeri counterpart Ilham Aliev.
After the ceremonial signing, Plevneliev emphasised the role of future Azeri gas deliveries in Bulgaria's efforts to diversify supplies and said that Sofia stood ready to increase the annual deliveries beyond the one billion cubic metres agreed previously.
Bulgaria now imports more than 80 per cent of its three-billion cubic metres annual gas consumption from Russia via Ukraine, making it particularly vulnerable to any supply interruptions – such as those caused by gas price disputes between Moscow and Kyiv in January 2006 and January 2009.
Sofia has been slow in building interconnector pipelines with neighbouring countries, the cornerstone of EU's gas strategy, and Plevneliev once gain underlined the importance of the gas grid link-up with Greece, which would allow Bulgaria to tap into the Azeri gas flows to Europe.
Azerbaijan plans to export 10 billion cubic metres of gas a year to Europe from its Shah Deniz 2 field starting in 2019, and Bulgaria's state-owned Bulgargaz was one of several European firms to sign contracts with the consortium developing the gas field in September 2013.
Turkey, which would receive a further six billion cubic metres from Shah Deniz, plans to build the Trans-Anatolian Pipeline (TANAP) to ship the gas, which will link at the Turkish-Greek border with the planned Trans-Adriatic Pipeline (TAP). Bulgaria would get its gas by linking up to the Greek gas grid and TAP.
Plevneliev said that "we want to encourage more Azeri investment in Bulgaria", identifying gas storage and household consumer-oriented projects as areas of particular interest.
Beyond energy, the other fields in which Sofia and Baku plan to step up co-operation were pharmaceuticals, information technologies, agriculture and food processing industries, infrastructure construction and tourism.